ABC's Matthew Dowd On This Week: Mitt Romney Has Bigger Problems Than His Mormon Faith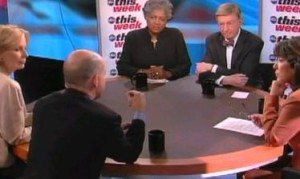 On This Week today, Christiane Amanpour and the panel discussed the issue of Mitt Romney's Mormonism and whether it would be an issue for him to deal with in the Republican race for the presidency heading into primary season, or if he had too many other political problems to deal with to prioritize his personal faith.
Romney's faith was brought into the limelight over the weekend due to controversial statements made by pastor Robert Jeffries, who introduced Rick Perry at the Values Voters Summit on Friday, alleging that Mormonism is a "cult," a comment clearly intended to reflect badly on Mitt Romney. Perry immediately distanced himself from those comments, but George Will felt the controversy would "be an issue with the Republican voters," particularly Southern Republicans.
Matthew Dowd didn't dwell long on the comments, but did suggest out of all the issues Mitt Romney has to deal with this election cycle, his religion isn't exactly at the top of the list.
"Mitt Romney's problem isn't that he's a Mormon, and Mitt Romney's problem isn't the Evangelical Church. Mitt Romney's problem isn't about a cult, it's about a core. Most Republican voters do not think he's authentic. The perception is that this is a guy who doesn't have a core, doesn't have a solid core, unrelated to his religion, unrelated to that. Fundamentally his problem is not going to be related to this Mormon issue, but related to the issue of 'Can we trust you?'"
Donna Brazile set her sights on the other candidate involved in the controversy, and argued that as is the case with Romney, Rick Perry has several major issues with the Republican party he has to reconcile. She predicted the whole hunting camp controversy would continue to be a thorn in his side until he addresses it publicly. However, she believed Romney would be able to handle the issue of his faith well, given that he addressed it in the last presidential cycle and it was barely an issue for voters.
Watch the video below, courtesy of ABC News:
Have a tip we should know? tips@mediaite.com
Josh Feldman - Senior Editor