Andrea Mitchell Reports On Newtown Shooter's Extended Ammunition Magazines, And… Book On Asperger's?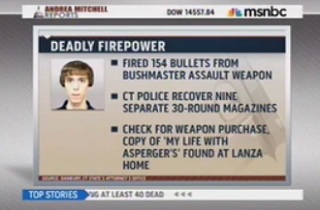 Not this again. The Connecticut State's Attorney's office has released new details about the horrific Dec. 14 mass shooting at Sandy Hook Elementary School in Newtown Connecticut, including hundreds of items seized from the home of the shooter and his mother, Nancy Lanza. With all of those items to choose from, Andrea Mitchell Reports host Andrea Mitchell chose to highlight three of them on her program Thursday afternoon: the nine 30-round magazines that police found, a gift card for the purchase of a firearm, and the book Look Me In The Eye: My Life With Asperger's.
In the days following the tragic Newtown shooting, there were copious amounts of irresponsible, false, and downright slanderous reporting on people with Autism Spectrum Disorders (ASDs), specifically Asperger's Syndrome. Although there is absolutely no evidence to suggest any relationship between ASDs and mass shootings, and despite the fact that developmentally disabled people are far more likely to be the victims of violent crime than the perpetrators of it, this smear seems to pop up periodically in relation to mass shootings. Following intense pressure from autism advocates in the media, reporting on the disorder improved following Newtown.
On Thursday, though, Andrea Mitchell delivered a brief report on the five search warrants released by authorities in Connecticut. Those warrants revealed a host of items recovered from the Lanza home, including dozens of types of ammunition, firearms accessories, laptops, phones, handwritten notes, Samurai swords, a "military-style uniform," an "Adam Lanza National Rifle Association Certificate," "three (3) photographs with images of what appears to be a deceased human covered with plastic and what appears to be blood," and a "holiday card containing a Bank of America check #462 made out to Adam Lanza for the purchase of a C183 (firearm)* authored by Nancy Lanza."
Police also seized at least nine books from Lanza's home, including the NRA Guide To Basic Pistol Shooting, Born On A Blue Day: Inside the Extraordinary Mind of an Autistic Savant, Train Your Brain to Get Happy, and Look Me In The Eye: My Life With Asperger's.
With all of those items, and all of those books, including one about firearms, Mitchell chose to report on three of them, telling viewers "Connecticut police recovered nine separate 30-round magazines, the same size as those used by Jared Loughner, by the way, in the 2011 Tucson shootings. Among the items recovered at landsa's home, a holiday card from his mother containing a check with money pegged towards a firearm purchase, and a copy of the book Look At Me: My Life With Asperger's."
Although the warrant says the check was for a gun, the item Mrs. Lanza meant to earmark this check for was probably a C183 Point and Shoot camera, not a firearm. The Tucson shooter used a 33-round magazine, not a 30-round magazine. Oh, and a book about autism was probably not the third-most newsworthy thing found by police. Worse than that, though, presenting the book on such a short list of seized items creates the impression that the book on autism is somehow related to the crime. It is not, and such presentation is, at best, irresponsible. If Andrea Mitchell, or any other journalist, doesn't mean to suggest a connection between ASD and this horrific crime, then they should avoid reporting on the disability unless they have time to put it in proper context.
It's also worth noting that the original report of Lanza's alleged ASD was the result of a law enforcement leak, and that of the many books they found in the home, they elected only to record the titles of the two books about autism, the NRA manual, and one other. If the media is promoting misconceptions about autism, law enforcement isn't exactly helping matters.
Have a tip we should know? tips@mediaite.com