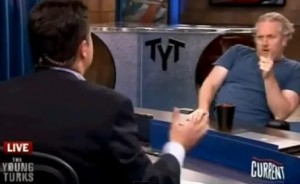 Conservative media provocateur Andrew Breitbart made news at last week's Conservative Political Action Conference by hectoring Occupy DC protesters with cries of "Stop raping people!"
On Tuesday night's The Young Turks, host Cenk Uygur challenged Breitbart over his rant, and his assertions that the mainstream media hasn't been covering sexual assaults at Occupy protests. Breitbart told Uygur his rant was "a stunt to go over the mainstream media, to get people talking about the rapes."
In the second part of the interview, however, Uygur showed Breitbart several examples of the mainstream media covering the instances of rapes and sexual assaults at Occupy encampments. Breitbart tried to brush them off as "local media," but Cenk gave examples from The Huffington Post, and one from ABC News that we cited here at Mediaite (another national site) when we reported on the sexual assaults.
RELATED: Watch Andrew Breitbart's Fiery CPAC Speech: I Have 'College Days' Obama Videos
If there was national media coverage of these incidents, then what did Breitbart mean when he said he wanted to "get people talking about the rapes?"
"You're smearing the entire movement with what some people, who oftentimes, in almost all these instances, were not part of the movement, came into the movement to abuse the people that were in that movement," Uygur said, and asked if Breitbart would be fair if someone yelled at him and a group of conservatives, "Stop having gay sex in bathroom! Stop having gay sex in bathrooms!"
It is here that Breitbart reveals the obvious. "I'm being too fair," Breitbart responded, explaining that this is all payback for what he calls the "smearing" of the Tea Party. This has been the recurrent theme of conservative coverage of the Occupy Movement, and in the world of cynical media propagandists (left or right), there's an impulse to say "Fair enough," to acknowledge that, had such events occurred at Tea Party protests, there would have been some who would have sought to exploit them to discredit that movement.
However, in the wider world, all Breitbart is doing is exploiting those rapes to score points against a group (or groups) that he disagrees with. He doesn't give a rat's ass about the women who were raped. Breitbart's rant wasn't directed at Janeane Garofalo, or Keith Olbermann, or Bill Maher. It was directed at a crowd of Occupy protesters, which, statistically speaking, had to have included dozens of women who have survived sexual assaults. Whether or not you believe that the assailants in these reports were from outside the movement (a point Breitbart didn't dispute), the fact that he screamed "Stop raping people!" at a crowd that included victims of sexual assault is despicable, and belies any concern for these women. He called them "freaks" and "filthy animals."
That is not to say that Andrew Breitbart doesn't care when women are raped. I'm sure he does. Even though he can't see the Occupy protesters this way, Breitbart is a human being, and in the heat of that moment, he made the judgment that discrediting his opponents and counterbalancing the coverage of the Tea Party outweighed fairness to those protesters, and to those women. He may never admit it now, but I hope he realizes he was wrong.
Here's the clip, from The Young Turks:
Have a tip we should know? tips@mediaite.com