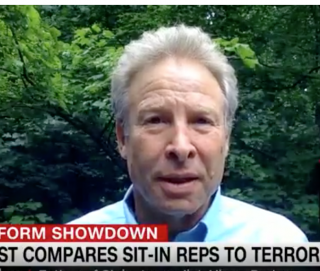 On Thursday morning on CNN, Andy Parker, the father of slain journalist Alison Parker, called out the NRA and lawmakers who are blocking gun control in congress.  Alison Parker was killed on live TV last year during an interview when she and her cameraman were attacked by a gunman.  She was 24 and her cameraman, Adam Ward, was 27.
"The real terrorists are the folks at the NRA. Those are the terrorists. And unfortunately, you have politicians that are complicit — they've pledged allegiance to the NRA versus the United States of America and the safety of its citizens," Parker said to CNN.
Parker made these comments in response to a NRA radio host, Cam Edwards, who criticized the democratic lawmakers and the leader of the sit-in, Rep. John Lewis (D-GA), who were holding a sit in on the House floor.
"So in order to push legislation that the sponsors say would not have prevented the attacks in Orlando, Florida, they're also going to flout the House rules.  Kind of like, you know, criminals and terrorists flout the rules that we have in place right now and will continue to do so," Edwards said.
These comments were not the first time that Parker has criticized the NRA. He went on CNN after the shooting last year to say that the gunman had messed with "the wrong family." In addition, he also slammed Virginia's senators for not calling following the shooting of his daughter and he also claimed that some politicians were simply in the pocket of the NRA.
"Between him, Mitch McConnell, Mike McCaul and Eddie Munster — I mean, excuse me, Paul Ryan — when you have those people that are obstructionists, if it were up to me they would be wearing orange jumpsuits right now," he said to CNN.
Watch the video above, via CNN:
Have a tip we should know? tips@mediaite.com