Ann Coulter Names Liz Cheney, Other 'Shysters' in GOP Responsible for Losing Elections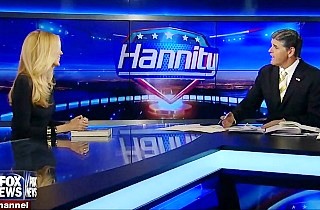 Conservative columnist Ann Coulter joined Fox News Channel host Sean Hannity on Monday night where she tackled some of the mistakes that Republicans have made recently in fielding winning candidates. She specifically attacked GOP consultants and named prominent Republicans who have mounted primary attacks on the GOP officeholders who are more likely to win elections.

"We've lost a lot of Senate elections," Coulter said. "This is not a party that seems overly concerned with winning elections."
She said that both establishment and tea party Republicans are to blame, but most of the blame for those failures lies with Republican consultants. She named Newt Gingrich, Liz Cheney and Mark Sanford the category of Republicans who are not looking out for the future of the party.
RELATED: Ann Coulter to Hannity: Putin Is Making a 'Monkey' Out of Obama on Syria
"I love Liz Cheney," Coulter said, "but why should we be having a rancorous primary against a good Republican senator other than for Liz Cheney's ego?"
"I think she's more conservative," Hannity fired back. Coulter disagreed.
"We are not concentrating on winning. We are allowing shysters to take advantage of the Republican Party," Coulter insisted.
Coulter and Hannity closed the segment with a battle over how to strike the appropriate balance between principled conservatism and being able to win elections.
UPDATE: Mediaite sat down for an interview with Coulter about her new book Never Trust a Liberal, and also on why she mostly watches MSNBC. Read that HERE.
Watch the clip below via Fox News Channel:
[Photo via screen grab ]
— —
> >Follow Noah Rothman (@NoahCRothman) on Twitter
Have a tip we should know? tips@mediaite.com