Axelrod: Sanders Needs to Reach Out to Minorities to Become More 'Competitive'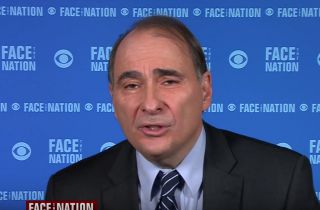 David Axelrod, a former senior adviser to President Barack Obama, praised Sen. Bernie Sanders (I-VT) for his authenticity on Sunday morning, but added that he has to reach out to minority voters to become a more competitive candidate.
"I think he's done a great job," Axelrod said on CBS' Face the Nation. "… He's gone farther than anybody anticipated, and it is partly because he comes across as a guy who believes exactly what he's saying and is very passionate about it."
But Axelrod added some caveats to his praise of Sanders, namely that the surging candidate might not have the "dimensionality" to run a lasting campaign and eventually become the commander-in-chief.
"He doesn't really have a relationship with minority communities because of the state from which he comes," Axelrod said. "And you can see that in polling in states like South Carolina, Nevada, and elsewhere. He's going to need to develop that to become a competitive candidate down the line."
Sanders has been surging in recent polls of Democratic voters in New Hampshire and Iowa, gaining significant ground on frontrunner Hillary Clinton. Many polls now show the democratic socialist beating Clinton in those key primary states where Clinton once led by double digits. Sanders has been reluctant to attack Clinton in light of her falling poll numbers, which many believe are caused by the controversy surrounding her email practices while she served as secretary of state.
But Sanders' campaign has not progressed without bumps in the road, specifically regarding the Black Lives Matter movement. Last month, Sanders' rally in Seattle was hijacked by protesters from the movement; in July, he and former Maryland Gov. Martin O'Malley were interrupted by Black Lives Matter demonstrators at the Netroots Nation conference.
Watch the full interview below, via CBS:
[h/t Grabien]
[Image via screengrab]
— —
>>Follow Andrew Desiderio (@desiderioDC) on Twitter
Have a tip we should know? tips@mediaite.com