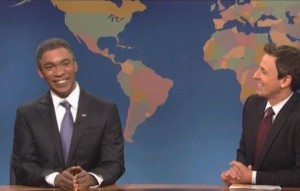 Well, after starting the night off with an election-themed sketch, SNL, just like it did last week, stayed mostly out of politics… until Weekend Update. Unsurprisingly, most of Seth Meyers' jokes centered around election results… and the segment's first guest was President Barack Obama, who dropped by to revel in his re-election, and discuss some of what he has in mind for the next four years. Oh, and bounce.
SNL had to break out Jay Pharoah as the president at some point tonight; the episode wouldn't have been complete without featuring both presidential candidates in some form or another. And if the bit you'll see below didn't break new ground, it was worth reflecting on some of the ridiculousness provided by the campaign that ultimately ended in Obama's re-election. There was Pharoah's Obama being baffled by his own victory ("I even gave you a one-debate head start!"), and thanking Mitt Romney and Republican congressmen (the latter specifically for being unable to avoid ill-advised remarks about rape) for helping ensure that very victory.
And if Obama's main takeaway about being president was "This is a terrible job and I hate it" (bringing to mind this Onion article), at least he found enough to celebrate in a second term – mainly, the ability to finally do things his way – that he could dance a little bit. Hey, being president does kind of seem like a draining, endlessly stressful, and, well, terrible job, when you think about it. Gotta make it bearable somehow.
Video below, via NBC:
Have a tip we should know? [email protected]