Barney Frank Blasts David Gregory For Harping On Race At Elizabeth Warren/Scott Brown Debate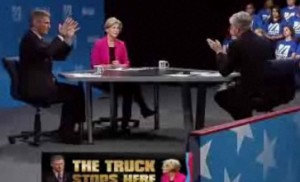 In Monday night's Round Two in the battle for the U.S. Senate in Massachusetts, incumbent Sen. Scott Brown continued to press his attack on challenger Elizabeth Warren's race, but he had some help. As Rep. Barney Frank noted on last night's The Rachel Maddow Show, Meet The Press host and moderator David Gregory opened the debate with eight questions on the topic, and gobbled up nine minutes of an hourlong debate. Rep. Frank called Gregory's performance "about as bad a set of priorities as I've seen."
Rep. Frank also noted that, in stark contrast, Gregory spent scant moments on Afghanistan, during the end-of-debate lightning round. Frank also attacked the credibility of Brown's "independent" pose, including Browns assertion that he hasn't made up his mind who he would elect as Senate Minority Leader, and his telltale naming of Justice Antonin Scalia as his model Supreme Court justice, which he quickly appended with the names of pretty much every other justice.
Rep. Frank's criticism of Gregory is valid, but incomplete. The time spent on the Native American attack was excessive, but in fairness to David Gregory, it is an issue that has gotten outsize media attention, and needed to be addressed in some fashion. Gregory's real crime was his failure to ask Sen. Brown a single question about the members of his staff who were filmed mocking Warren with racist war whoops, or Brown's initial reaction, which was to attack Warren while not "condoning" the behavior, which presumably should have been left at the office, or down at the bah.
Even after Cherokee Nation Principal Chief Bill John Baker denounced Brown's staff, Brown still refused to apologize, issuing a statement through a spokesperson that evaded responsibility, and arguably only denounced the display of the racist behavior, whose intent Brown still seems to agree with.
As for Brown's much-boasted-about "independent streak," that's all pretty much smoke and mirrors, as we explained in May:
Brown's habit of voting with President Obama (70% of the time in 2011, according to one estimate) and against his own party (54%) does have a dangerous sort of appeal to the low-information "independents" who decide every election (even as it rankles conservatives), but as WBUR's Fred Thys notes, the devil is in the details:

…we pointed out that in 2011, Brown voted against his own party 54 percent of the time, and with President Obama 70 percent of the time. We based the story on a CQ ranking of Senators by how partisan (or not) they are. The rankings are based on every roll call vote a Senator makes, in which the majority of Democrats votes against the majority of Republicans. So these are, arguably, not easy votes, but controversial and contested ones.

Still, several of you commented that we should look at how Brown voted when his vote made the difference.

We did, and here's what we found.

In 2011, Brown cast only two votes where the outcome would have been different had he voted the other way.

Thys goes on to explain that Brown "voted against his party" in "100 percent" of those occasions, but in reality, one of those votes preserved a compromise with the GOP House, so while it went against his Senate colleagues, it was arguably not against his party. The other was a vote to extend the amounts for VA loans, not exactly a flamingly liberal act.

The rest of the time, Brown's "bipartisanship" amounted to symbolic nods to the liberalism of his home state. As we recently noted, Brown has promised to repeal the President's Affordable Care Act ("Obamacare"), even as he takes personal advantage of it. How that will play in Massachusetts is an open question, since the law that it was modeled on, Romneycare, enjoys overwhelming support in the state.
Rachel Maddow, who has a strange relationship with Scott Brown (or, rather, for whom Scott Brown has an odd paranoid fascination), has been observing for weeks that Sen. Brown is relinquishing his most potent political weapon by attacking Warren the way he has: his nice guy image. On that count, he lost last night's debate, despite a little bit of help from David Gregory.
Here's the full video of last night's debate:
Follow Tommy Christopher (@TommyXtopher) on Twitter.
Have a tip we should know? tips@mediaite.com