Barney Frank On Maddow: Obama's Gay Marriage Stance Will 'Embolden' Others To Speak Out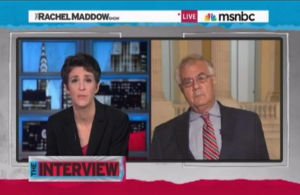 In light of President Obama's public support of gay marriage, Barney Frank joined Rachel Maddow on her show Wednesday. Frank came out, while serving in Congress, 25 years ago — and has voiced that the president's lack of endorsement of same-sex marriage was a problem. When the president speaks out, he said, it "moves us a little further."
Frank himself will be getting married before retiring. Maddow said the Obama administration has been "very pro-gay rights" — and asked Frank why he thought Obama's not previously endorsing marriage equality was a problem, and whether he's solved that problem now.
He has solved it, Frank said. The problem was a matter of referenda, he added:
In public policy, he did just the right thing. But as you know, we have several referenda coming. And there has been some effort within the African-American community to kind of say, oh, well, family stability is important. These people are trying to undermine it. In the California referenda in 2008, people were quoting Barack Obama's opposition at that point to same-sex marriage, in literature aimed at the black community.
Frank went on to point out that Maryland, too, has a referendum coming up. "I was fearing that you would see people who were trying not to allow this to go forward, invoking President Obama in the referendum," he said. "Now they won't be able to do that."
He later added, "It is important that the president is a figure that people respect, and when the president speaks out, it moves — we're moving in the right direction anyway. It moves us a little further."
Maddow asked, "are there people who aren't in favor of same-sex marriage rights now who will be, because president obama is?"
Frank replied:
As a matter of fact, that's why he won't have any political impact, I believe, in terms of the election, if your view on whether or not we have the right to marry helps determine your vote in a significant way, if you were against it, you were already against Barack Obama because of what he did on doma. if you were for it […] you were for Barack Obama. But it has an impact, first of all, there will be some people who will be more emboldened to speak out now.
The president's "absolutely right" about this "generational" issue, he said.
Take a look, via MSNBC:

Have a tip we should know? tips@mediaite.com