Part 1 – Before She Was The Rachel Maddow: The Best Of The Maddow-Tucker Carlson Debates
Before She Was
The
Rachel Maddow: The Best Of The Maddow-Tucker Debates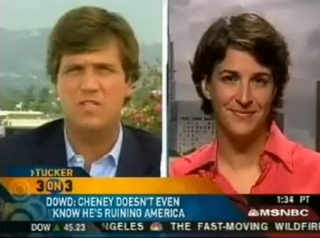 Watching the prim, polished Rachel Maddow show as it exists today– MSNBC's flagship– it's hard to recall the days Rachel Maddow was a radio host first and foremost, with some gigs on TV on the side. Her first regular stint on national television was on The Situation with Tucker Carlson— a news opinion program that preceded both Wolf Blitzer's The Situation Room and Jersey Shore's Mike "The Situation" Sorrentino, and eventually became simply Tucker, giving way to a series of programs before ceding the 9PM MSNBC spot to Maddow herself.
This series will take a look at some of the most exciting discussions/debates on that program. In this five-part series, we watch as a less experienced but still savvy Maddow plays the combative guest to host Tucker Carlson on everything from terrorism to social issues to the horserace election politics.
In this installment from 2006, a survey asking children whether they haven't had same-sex experiences leads the discussion, a survey Carlson finds problematic because it imposes beliefs on the young people taking the survey. He calls it "the definition of propaganda," something Maddow scoffs at. "You're smarter than what you're saying right now," she jokes, explaining it as a "walk a mile in your shoes" exercise. The debate is good-natured and Carlson notes that he isn't against promoting gay rights, but that "kids" shouldn't have beliefs imposed on them. "Kids? They're in high school!" Maddow retorted, explaining that she gets questions like this in real life and in questionnaires all the time.
The segment via MSNBC below:

Have a tip we should know? tips@mediaite.com