Bernie Goldberg: NYT Are 'Snobs Of The Worst Kind' For Attacks On Fox Viewers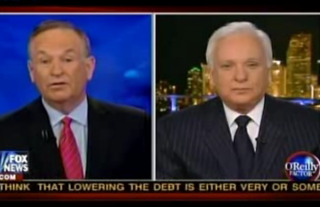 It seems that no one at Fox News is particularly amused by New York Times editor Bill Keller's comments calling FNC views "the most cynical people on the planet" and mocking the slogan "Fair and Balanced." After a fiery comment by Liz Trotta last Saturday where she called the Times a "throwaway newspaper," Bernie Goldberg came up to bat on tonight's Factor, chiding the paper for "living a bubble" and looking down on "Middle American conservatives."
Goldberg and host Bill O'Reilly were both equally eager to dig in on the Times, particularly on the attack on Fox's "Fair and Balanced" label. "I can think of something more cynicial," Goldberg offered, and the two both fought to deliver the punchline: "All the News That's Fit to Print." "They live in a bubble," Goldberg argued, "and inside the bubble they don't think they're guilty of any of the things they accuse everyone else of." O'Reilly agreed, noting that the Times "ignores stories it doesn't like [and] promotes stories that it loves," but didn't seem particularly upset about it in the way Goldberg was. "We have gotten under Keller's skin," he proclaimed, more pleased than annoyed.
While Goldberg agreed on that point, he still conveyed anger at what he saw as outrageous arrogance on the part of the Times. "They are snobs of the worst kind," he complained, noting that "if they treated black people with the same contempt they treat Middle American conservatives, they would be called racists." He concluded telling the audience, "they don't have any respect for your intelligence or your integrity." Once again, O'Reilly was unfazed, simply basking in his belief that "they know we have more influence than they do."
It took less than a week for the Fox team to respond to the New York Times. With the ball once again in the latter's court, it's hard to imagine this spat is ending anytime soon.
The segment via Fox News below:

Have a tip we should know? tips@mediaite.com