Bill Maher: GOP Wins Elections Because They 'Stick To Their Guns' Democrats Should Try This Too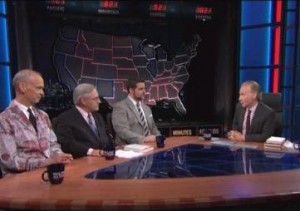 Wisconsin governor Scott Walker's victory in this week's recall election made a lot of liberals "depressed," as Bill Maher put it on his show tonight. He framed the recall election as "[the unions] tried to hit a bully, and the bully… kicked their ass." However, Maher credited Republicans like Walker for sticking to their guns and pushing to shift public opinion as opposed to Democrats, whom Maher argued are more wary about polls.
RELATED: Debbie Wasserman Schultz To Piers Morgan On Wisconsin: 'We Were At Least In Part Successful'
Maher observed that in spite of all the local factors that ended up in Walker's favor, pundits seem to be all-to-eager to declare this a sign for what's to come in November for President Obama. Panelist Michael Brendan Dougherty said while the anti-Walker organizers were railing against certain policies of Walker's, the pro-Walker side didn't have much to go with… except a lot of money, which Dougherty argued was a big influence in the outcome.
E.J. Dionne brought up the Citizens United ruling, which Maher marked as a significant turning point in the relationship between money and politics. Filmmaker John Waters, however, didn't like the whole idea of a recall to begin with. He said, "If you don't like him, vote him out next time."
Waters brought up Maher's one million dollar donation to the pro-Obama Super PAC, and both he and Maher agreed that while the money certainly helps Obama compete with all the money been thrown into Republican Super PACs, the whole idea of rich people being able to donate millions to a political candidate should be illegal.
RELATED: Ed Schultz Demands Union Members Voting For Scott Walker Explain 'Why The Hell You Did That'
Maher said that the reason Walker won is because "he stuck to his guns," and argued this is part of a larger trend about Republicans and public opinion.
"[Republicans] don't fear polls. Democrats fear polls and follow polls. Republicans look at the polls and go, 'So what? We'll change it. Public option is popular? We'll make it unpopular. Unions are popular? No big deal.'"
Watch the video below, courtesy of HBO:
Have a tip we should know? tips@mediaite.com
Josh Feldman - Senior Editor