Bill Maher Interviews Seth MacFarlane About Family Guy And Obama's Job Performance On CNN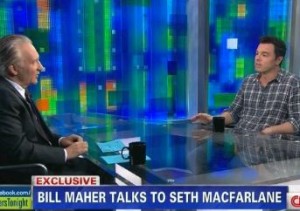 Bill Maher filled in for Piers Morgan on CNN tonight, and he sat down with Seth MacFarlane, a frequent Real Time guest, for a long chat covering the outlandish comedy of Family Guy, the show's latest provocative Emmy campaign, and contemporary politics. MacFarlane told Maher he still likes President Obama and isn't necessarily as disappointed as many liberals with his tempered accomplishments.
RELATED: Seth MacFarlane Responds To Sarah Palin's Criticism Of Family Guy
For a network TV show, MacFarlane's Family Guy, as Maher put it, is pretty "raunchy." MacFarlane said that the animated format allows the comedy to enter into the territory of the taboo, including a controversial episode last year about domestic violence. Maher marveled at the kind of dialogue MacFarlane is able to get away with on the show that very few other shows could.
Both men agreed that the kind of material they do on a weekly basis is why they don't win a lot of high-profile TV awards. MacFarlane talked about the show's latest Emmy campaign, which includes a flyer with the following text:
"Come on, you bloated, overprivileged Brentwood Jews. Let us into your little club."
MacFarlane admitted that the chances of Family Guy actually getting an Emmy nod are staggering, so he figured they might as well "make some noise [and] get some laughs." Maher asked him if being "politically outspoken" has influenced Emmy voters. MacFarlane said he doubted it and said he's not sure what exactly influences them.
RELATED: Bill Maher, Andrew Breitbart, And Seth MacFarlane Bond Over Trashing Democrats
Maher then jumped into a more political discussion with MacFarlane. MacFarlane revealed that he recently spoke to Senator Al Franken, who relayed to him that it's incredibly hard to get things done in Congress, and so he's not sure if he feels that disappointed with President Obama's performance so far. MacFarlane talked at some length about the necessity of government services, joking that he would be called a "socialist" for his views.
Watch the video below, courtesy of CNN:
Have a tip we should know? tips@mediaite.com
Josh Feldman - Senior Editor