Bill O'Reilly Claims 'Victory' In Post-Tucson Political Media 'Game' Of Right And Wrong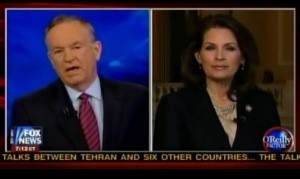 Michelle Bachmann joined Bill O'Reilly last night to discuss tonight's State of the Union speech and her response on behalf of the Tea Party Express organization. The subject of Gabrielle Giffords inevitably came up, and Bachmann revealed her personal reaction to learning the tragic news that a friend of hers had been shot. The conversation quickly turned to the post-shooting exploitation war that quickly played out in the media, which Mr. O'Reilly claimed his side to have won.
It seemed a rather stunning turn in both logic and tone in which the Fox News anchor both blamed his political opponents for the injustice of exploiting the tragedy, but also, in a weird way, also exploiting the tragedy to score his own political points (though to be fair – the calculus of this sort of equation is very difficult to measure.)
The exchange in question (transcript via TV Eyes):
Bachmann: The media seemed like they could care less. pin your name, Glenn Beck, Sarah Palin. All they could do is look for someone to point their finger too. They could care less about the truth. anybody could see that. It was appalling to watch it happen. I didn't want to get into the middle of it and justify what they were saying (emphasis mine.)

O'Reilly: Because you knew her. So now you get sad and you — All right. now, I get angry. That's how I deal with injustice. I get angry. That's me. So then I came on and I don't know whether you saw it or not, and I just ripped them. I just, bang. New York Times, Krugman, MSNBC, missile after missile after missile. And then the game was on. The game of who was right and who was wrong and this and that. They lost. As President Obama's speech indicated. They being the far left. They lost. So, do you think that the victory is temporary or is the far left damaged now forever in this country?
Fans of O'Reilly tune in to The Factor for this exact sort of black and white victory lap. But just as traditionalists found it unseemly for anyone to suggest that right-of-center media personalities were at fault, one can just as legitimately criticize O'Reilly for diminishing the post-Tucson finger-pointing into a "game" in which he came out the victor. Further, to have seen President Obama's Tucson memorial speech as an indication that the "far left" lost "the game of who was right and who was wrong" seems to reveal that he largely missed the grander point of the President's speech.
Watch the clip via Fox News below:
Have a tip we should know? tips@mediaite.com
Colby Hall - Founding Editor