Bill O'Reilly Confronts Bob Costas Over Gun Control Comments: People Own Guns To Feel Safe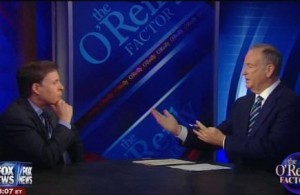 Bob Costas continued to explain his gun control remarks from Sunday Night Football on Bill O'Reilly's show tonight. While O'Reilly agreed that Costas was being unfairly tarred in the media for his remarks, he did challenge the NBC broadcaster's assertion about the disturbing nature of the gun culture in the United States, telling Costas that owning a gun makes people feel safer in bad situations.
RELATED: Bob Costas Responds To Criticism: When Has An Athlete Owning A Gun Ever Made A Bad Situation Better?
Costas made it clear that he has nothing against the Second Amendment, and said he was not calling for more gun control in his reaction to the murder-suicide committed by NFL linebacker Javon Belcher. However, Costas said that the gun culture in the United States tends to lead more to tragedy rather than safety. O'Reilly argued that people are so opposed to gun control because they have a legitimate fear of being unable to defend themselves in the face of government tyranny.
Costas said he supports stronger controls on the sale of guns, including background checks. He found it personally amazing that any law-abiding citizen should have a need to purchase "military-style artillery and body armor." O'Reilly agreed with Costas on this point, but disagreed with Costas' assessment that armed witnesses in the middle of a shooting would not make the situation safer, but lead to more crossfire and more danger.
O'Reilly asked Costas if, in the case of the Aurora movie theater shooting earlier this year, he would rather duck down and hide or be armed and have the ability to defend himself. Costas pointed out that Colorado has right-to-carry laws, and predicted it would be likelier that if someone else had a gun in the theater and opened fire, the carnage might have been worse. O'Reilly respected Costas' point of view, but made it clear that the same gun culture he decries is embraced by millions of Americans, himself included.
Costas explained that since he made his comments, he's heard from a number of people in the sports world that there is a rather cavalier attitude about guns. He said it was important to talk about the gun culture and the effect of violence on sports, but did say he should have provided more perspective and encouraged a more serious discussion of domestic violence.
Watch the video below, courtesy of Fox News:
—–
Follow Josh Feldman on Twitter: @feldmaniac
Have a tip we should know? tips@mediaite.com
Josh Feldman - Senior Editor