Still Nothing On The Fiscal Cliff, But Congress Did Vote To Strike The Word 'Lunatic' From Federal Law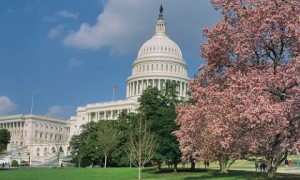 If you're still holding out hope that Congress will come to some sort of compromise on the fiscal cliff, you're out of luck. But if you were hoping that in the midst of all this the only thing Congress could agree on is some words are just too inappropriate for federal law, then you're in luck! In a resounding 398-1 vote today, the House decided to strike the word "lunatic" from federal law. The bill was passed by the Senate a few month ago, so now it's going to be signed into law by President Obama.
RELATED: Pennsylvania GOP Official Compares Obama Supporter To A 'Mentally Retarded' Person
Yes, according to the Washington Post, the House made the final determination today that the word "lunatic" is too offensive and inappropriate to be used in any legislation. Now, for something to become the subject of an entirely new law, there must be an unbelievable number of times the word "lunatic" appears on the law books.
Well, if there are, we have yet to see them, because the bill passed today cites a singular example.
The legislation cites one instance in banking regulation that refers to the authority of a bank to act as "committee of estates of lunatics" on guardianship issues.
The sole vote against the measure came from Texas Republican Louie Gohmert, who both decried the idea of taking up this issue, of all things, when the fate of the economy should be the number one priority, and the need to keep using the word "lunatic" in order to hold onto an apt descriptor for "people who want to continue with business as usual in Washington."
—–
Follow Josh Feldman on Twitter: @feldmaniac
Have a tip we should know? tips@mediaite.com
Josh Feldman - Senior Editor