Bill O'Reilly Fires Back At Criticism Of Benghazi Outrage From Liberal Media, Jon Stewart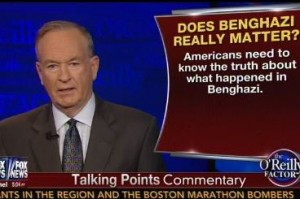 Bill O'Reilly tonight used his Talking Points Memo to fire back at "left wing spin" on Benghazi that's trying to downplay the investigation as just another drop of Fox News-Republican outrage fuel. O'Reilly played video of Hillary Clinton asking in her January testimony "what difference does it make" about how the attacks were carried out, saying that this is the same defense being used by liberals to downplay the significance of yesterday's hearings. O'Reilly dismissed arguments of hypocrisy and double standards, making it clear that the American people deserve to know the truth about what happened.
RELATED: CNN's Jake Tapper Predicts Hillary Clinton's 'What Difference Does It Make?' Outburst Will Reappear In 2016 Campaign Ads
O'Reilly said yesterday's hearings were unequivocally "embarrassing" for Clinton and President Obama, and showed a clip of Jon Stewart accusing Fox News and the Republicans of selective outrage, with no one speaking out when similar attacks occurred under the Bush administration. O'Reilly shot back that "none of the attacks were at the level of Benghazi," and surmised that Stewart must have gotten his news from Media Matters and The Daily Kos.
O'Reilly declared that every American should be outraged at Gregory Hicks, one of the whistleblowers who testified yesterday, getting demoted after voicing his concerns to his superiors at the State Department. O'Reilly said that "honest government is the cornerstone of our democracy" and people shouldn't be punished for telling the truth. He added that Clinton may need to testify again, and that this whole scandal may come back to haunt her in 2016.
Watch the video below, courtesy of Fox News:
—–
Follow Josh Feldman on Twitter: @feldmaniac
Have a tip we should know? tips@mediaite.com
Josh Feldman - Senior Editor