Bill O'Reilly: What Bill Clinton And Sen. David Vitter Did Was Worse Than Weiner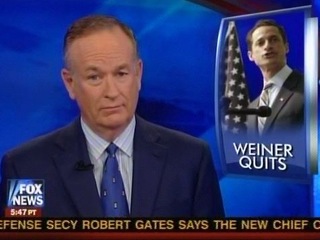 Since the initial rise of Anthony Weiner's sexting scandal three weeks ago, the impulse to compare his demise to that of other politicians caught in sex scandals has roped in politicians from all across the political spectrum. Now that he's gone, some have come to the conclusion that what he did was no worse than what some politicians that stayed in office managed to do. Tonight, Bill O'Reilly proposed just this, comparing Weiner to Sen. David Vitter and President Bill Clinton.
O'Reilly welcomed Fox News commentators Ellis Henican and Jim Pinkerton on the program tonight to evaluate the past three weeks and how precisely they led to Weiner resigning from office. Henican suggested that a large part of his lack of support came form the jack that he was a "jerk" who "treated people awfully" and would "never shut up," but ultimately is was his "taunting" of the media that did him in. Pinkerton disagreed with the first point entirely, instead suggesting that Democrats loved him but it was the revelation of the many women coming forward that changed the situation. "If Monica Lewinsky had said 'I confess' a week before Clinton did," Pinkerton suggested, he would have had to resign.
O'Reilly returned to the media point, however, and compared Weiner to other surviving politicians, namely Clinton and Sen. Vitter, who was caught patronizing prostitutes in 2007 and was overwhelmingly reelected last year. "On paper," O'Reilly suggested, "what Vitter did and what Bill Clinton did was worse." What they did differently, he argued, was that "you can't taunt the media– once you do that, you're dead."
The segment via Fox News below:

Have a tip we should know? [email protected]