Black Conservative Unloads On NAACP On Fox: 'They Want Blacks To Be Victims' And 'That's A Lie'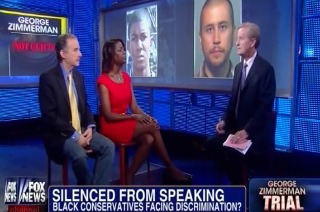 Fox News Contributor Deneen Borelli and Dr. Tom Borelli took on the National Association for the Advancement of Colored People on Wednesday morning's Fox & Friends. Host Steve Doocy said the couple claims that "their own civil rights were violated" when they were blocked by convention planners from setting up a booth "because they were conservative." The couple alleged that the NAACP is a "liberal front group" engaged in ginning up enthusiasm among black voters ahead of the 2014 midterm elections.

"I've been blacklisted for a number of years," Deneen Borelli said of the ongoing NAACP convention, "because I've been trying to get the NAACP to come out and take a stand when black conservatives are targeted and criticized because of our views."
"All I want to do was talk about people empowering themselves, how they can be self-sufficient and not rely on others, not rely on government," Borelli continued. "But, on the flip side, that's what the NAACP and the rest of the black liberal establishment does not want the black community to hear.
"They want blacks to be victims and to think there's racism and they can't get ahead, and really it's a lie," she concluded.
RELATED: Bill O'Reilly Skewers Mainstream Media: Perpetuating 'Lie' That Blacks Are 'Being Hunted Down By Whites'
Tom Borelli said that the couple tried to pay for booth space but they were rejected officially because the convention hall ran out of room, but pictures of the half empty hall suggest that space was not the issue.
"They were trying to roll back the block to the 1950's to keep these blacks very concerned," Tom Borelli declared. "They complained about the Supreme Court decision on voter rights. The Trayvon Martin issue was another example of rampant racial bias and racism in America. They're trying to move the clock back when the evidence shows otherwise."
"It's a liberal front group," Deneen Borelli continued.
Asked about the outcome of the trial of George Zimmerman for the murder of Tryavon Martin and whether that crime was racially based, Borelli said that it was not because both the perpetrator and victim were minorities.
"At the end of the day, this is really about the 2014 election coming up," Tom Borelli said. "So what we saw at the NAACP was a massive brainwashing session, and it's really outrageous."
Watch the clip below via Fox News Channel:
> >Follow Noah Rothman (@NoahCRothman) on Twitter
Have a tip we should know? [email protected]