Bob Beckel Fired by Fox News for 'Making Insensitive Remark to an African-American' Staffer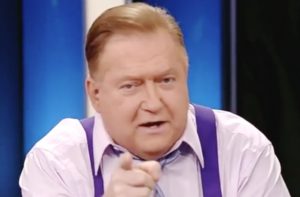 Well that didn't last long.
Bob Beckel has been fired by Fox News just shortly after returning to air.
Beckel, who played the part of the Washington Generals "token liberal" on The Five left the network in mid 2015, but recently came back just as his show moved to a coveted prime time slot at 9PM. Ratings for the new prime time line up have not been great since moving from the 5PM slot, as last week MSNBC enjoy
According to Brian Steinberg, writing for Variety:
"Bob Beckel was terminated today for making an insensitive remark to an African-American employee," the network said in a statement.
The specifics surrounding his termination are not yet clear. We will update this story as more details emerge. But it looks like either Juan Williams is soon to get more air time on The Five or a new left-of-center commenter is about to get a new job.
UPDATE: Ronn Blitzer is reporting new details for LawNewz:
Now, the law firm representing that employee—as well as more than a dozen other current and former employees in discrimination lawsuits against Fox News and parent company 21st Century Fox— is bashing the network for not giving the whole story. Attorneys Douglas H. Wigdor and Jeanne Christensen, who represent the employee who Beckel reportedly insulted, gave a little more detail in a message sent to LawNewz.com.
"Mr. Beckel stormed out of his office when our client, a Black [sic] IT employee came to service his computer, telling our client that he was leaving his office because he is Black," the attorneys said in a statement. They also allege that when their client went to lodge a complaint against Beckel, Fox News Chief Human Resource Officer Kevin Lord tried to intimidate him and convince him to withdraw the complaint.
UPDATE V.2:
From a FOX News spokesperson:
"As Mr. Wigdor knows, Fox News made the decision to terminate Mr. Beckel after a prompt and thorough investigation. His client raised the complaint to Kevin Lord, EVP Human Resources, on Tuesday evening via email and within 7 minutes Mr. Lord responded and began the investigation. Today, Fox News delivered that message to Mr. Beckel and facilitated an apology from Mr. Beckel to the employee minutes after he was terminated. No one tried to persuade Mr. Wigdor's client to withdraw his complaint."
Beckel has always been something of a loose cannon on live television, perhaps best evidenced by the now poignant "fuck off" during a stint on a 2012 episode of Hannity.
Have a tip we should know? tips@mediaite.com