Brian Kilmeade Hilariously Defends Romney's Wealth Against Comedian Jim Norton: 'Mitt Romney Started With Nothing!'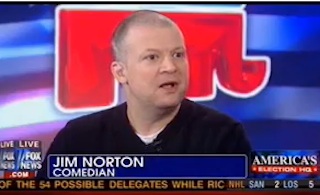 A panel discussion, on Fox and Friends Wednesday, discussing the relatability of the GOP candidates went awry when comedian Jim Norton crashed the party by exclaiming that none of the candidates could connect to regular Americans because they were all exceedingly wealthy. Co-host Brian Kilmeade asked the irascible funnyman whether Mitt Romney, in particular, was becoming more likable by talking only about the President, not about his other Republicans.
"I love the fact that we think he's relatable to most Americans!" Norton snarked. "He's worth $200 million dollars!"
RELATED: Ann Romney On Being Out Of Touch: 'We Can Be Poor In Spirit'
"He earned it!" Kilmeade countered.
"I'm not saying he doesn't deserve his money," Norton exclaimed. "But nobody relates to that. I think Ron Paul is like $5 million and Santorum is like $5 million. None of these guys have ever had to stand in the supermarket and complain to the manager that the coin star machine was ripping them off. None of them relate to average Americans."
"Is that a requirement to be president?" pollster Michael Maslansky asked Norton incredulously. (Ed note — Was that seriously a question?)
"You have to relate to average Americans on some level," Norton continued. "Biden is worth $250. Biden might have some relation but none of these guys have any connection to average people."
Kilmeade defended Romney as a Horatio Alger story.
"You can say that Mitt Romney started with nothing!" Kilmeade argued, apparently not being ironic. "He didn't get an inheritance from his dad. He was living in a two-room apartment when he first got started, so he can relate to the early struggles."
Wait a minute, stop the record!
Mitt Romney started with nothing?? Wasn't his father a chief auto executive??
According PolitiFact's Becky Bowers, there were "certain advantages to Romney's comfortable upbringing."
Romney started college at Stanford, where his "allowance" was big enough for frequent plane tickets to sneak home to Michigan see his girlfriend, Ann, according to a recently published book by two Boston Globe journalists, "The Real Romney."

After a two-year missionary trip to France, where he lived sparely as he proselytized door-to-door, he finished his undergraduate studies at BYU, where he married Ann in 1969. He was 22, his wife 19. His parents' wedding gift? A car. Meanwhile, the students — who started a family a year later — lived in a modest, $62-a-month basement apartment, Ann later told the Boston Globe. But they didn't have to work.
Norton did acknowledge later in the segment that Romney looked like a president and would vote for him if based on looks alone.
Watch the segment below, via Fox News:
Have a tip we should know? tips@mediaite.com