Bristol Palin's Success On Dancing With The Stars Sent Viewers Complaining To The FCC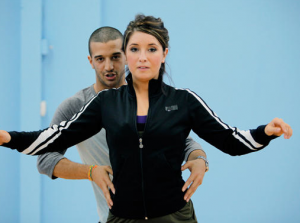 As you may have heard, Bristol Palin recently appeared on ABC's Dancing with the Stars, and she did pretty well–defying the judges and rising to the final three. Ultimately, she and her partner finished in third place.
Well, the against-all-odds success of Sarah Palin's kid apparently boiled the blood of some DWTS viewers, who weren't satisfied simply moaning to friends, family and neighbors, nor even to picking up the phone and complaining to ABC. No. They went to the government.
Documents obtained by The Smoking Gun detail all kinds of angry complaints registered with the Federal Communications Commission, ranging from accusations that ABC was "encouraging and promoting teen pregnancy" to charges the dance show's voting system was rigged:
One viewer from Pittsburgh alleged that the show's voting system had been "fixed by extreme supporters of the Tea Party and Radical Right-Wing. I find that it has become a political platform for Sarah Palin to improve her image and ooze her political slime." The aggrieved correspondent continued, "Bristol is not a star, what did she do, she had sex and got pregnant. Lets reward her…I made several call to ABC's complaint line and I hope that their phone lines melt. It has become a political movement, with Tea Party websites instructing on how to vote for Bristol. Ridiculousness!"
Ridiculous, indeed.
Perhaps the complainant least likely to be an entertaining dinner guest is the viewer from Cerritos, California who objected to a hug between Palin and DWTS judge Carrie Ann Inaba:
Noting that "no other dancer was called over for a hug," one viewer claimed that the clinch was a "signal for the GOP/Tea Party supporters of Sarah Palin to 'stuff' the vote for Bristol Palin, who on both dates had to be dragged over the dance floor." The writer added, "My 96 year old Mother-in-Law can dance better than Ms. Palin…I want my Government to protect me the viewer from deceptive practices."
Yeah, um… fear not. The government will get right on this. Not much else on the proverbial plate right now.
Have a tip we should know? tips@mediaite.com