Bush CIA Chief: Taking Action on Pre-9/11 Warnings Wouldn't Have Been 'Politically Acceptable'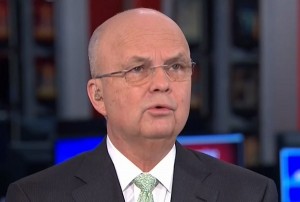 If Republican presidential frontrunner Donald Trump has done one thing right this election season, it has been to force the mainstream media to examine its idiotic acceptance of the "George W. Bush kept us safe" narrative that took root following the worst terrorist attack in U.S. history. One former Bush administration official has now added some jaw-dropping fuel to that fire.
Former NSA and CIA Director Gen. Michael Hayden (USAF Ret.) has been making the rounds on cable news this week to pimp his new book and to be asked his opinion about current events that he has no business being asked about. Hayden is something of a liberal hero this week for coming out against torture, which shows you just how low the bar is for former Bush officials, but this is the guy who was in charge of the NSA when America got hit on September 11, 2001.
During his stop on MSNBC's Morning Joe, Hayden let a disturbing bit of speculation sneak out. He explained that the pre-9/11 intelligence, such as the August 6 Presidential Daily Briefing, was "good enough that we knew something was coming," but not specific enough to know what was coming. He then added a curious bit of speculation that sounded more like it had occurred in real time than in hindsight, and which Hayden seems to realize is a blunder midway through (emphasis mine):
Hayden: Pre-9/11, the intelligence was good enough, Mike, that we knew something was coming. George Tenet's phrase, "it's blinking red." We all knew that. We did not have sufficient insight to see it was coming here. That's a game of expectations. That was nothing they had done before. We just assumed it was going to be against American interests.

Scarborough: You would disagree with Trump's assessment that 9/11 was George Bush's fault.

Hayden: It wasn't his fault. Even if we had the data to be more specific, which we didn't, what's the politically acceptable mechanism that George Bush does? If he imposes a TSA thing on August 15th, what's the attitude of the American…? What are you…? He actually may have caused more harm.
Even at face value, Hayden's statement is absurd, either that tightening airport security would have been harmful or that public opinion about travel nuisances would shape our response to a terrorist threat. But knowing what we know now, that the warnings were far more numerous, emphatic, and specific than Hayden lets on, this sounds more like something that was discussed before the attacks, that some consideration was given to ramping up airport security prior to 9/11, but was dismissed due to fear of a public backlash.
In addition to that presidential daily briefing entitled "Bin Laden Determined to Strike in US," Politico reported in November that intelligence officials were constantly setting their hair on fire at the White House that summer:
That morning of July 10, the head of the agency's Al Qaeda unit, Richard Blee, burst into Black's office. "And he says, 'Chief, this is it. Roof's fallen in,'" recounts Black. "The information that we had compiled was absolutely compelling. It was multiple-sourced. And it was sort of the last straw." Black and his deputy rushed to the director's office to brief Tenet. All agreed an urgent meeting at the White House was needed. Tenet picked up the white phone to Bush's National Security Adviser Condoleezza Rice. "I said, 'Condi, I have to come see you,'" Tenet remembers. "It was one of the rare times in my seven years as director where I said, 'I have to come see you. We're comin' right now. We have to get there.'"

Tenet vividly recalls the White House meeting with Rice and her team. (George W. Bush was on a trip to Boston.) "Rich [Blee] started by saying, 'There will be significant terrorist attacks against the United States in the coming weeks or months. The attacks will be spectacular. They may be multiple. Al Qaeda's intention is the destruction of the United States.'" [Condi said:] 'What do you think we need to do?' Black responded by slamming his fist on the table, and saying, 'We need to go on a wartime footing now!'"
Under those circumstances, it would seem inconceivable that increased screenings at airports wouldn't have come up, and Hayden's comments give a clue as to how those conversations might have gone.
Unfortunately, no one on the Morning Joe crew thought to follow up on that casual bombshell. But Hayden is still making the rounds. Here's hoping that when he washes up in, say, Jake Tapper's studio, someone asks him point blank if heightened airport security was ever discussed and dismissed in the run-up to the 9/11 attacks.
This is an opinion piece. The views expressed in this article are those of just the author.