Charles Barkley To CNN's Burnett: When People Talk Race, They Assume 'It's Only White People Who Are Racist'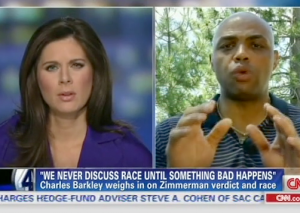 Charles Barkley sat down with CNN's Erin Burnett tonight for a wide-ranging conversation on the George Zimmerman trial and President Obama's remarks today about Trayvon Martin. Barkley maintained that he agrees with the verdict, and echoed sentiments made Friday afternoon by President Obama talking about his own experiences as a black man. Barkley told Burnett that too often when the country has a conversation about race, there's a general and inaccurate assumption that white people are the only racist ones.
RELATED: Charles Barkley 'Agrees' With Zimmerman Verdict, Hits Media For Giving 'Racists' A 'Platform To Vent Ignorance'
Barkley added onto what Obama said about the unique experience of black men, pointing out that the country never discusses race "until something bad happens, and when we do, "everyone protects their own tribe." He also told Burnett, "When people talk about race, they always want to act like it's only white people who are racist," noting that it's possible for black people to be racist too.
Barkley reiterated his support of the jury's verdict based on the evidence. Burnett asked him about the idea of "subconscious profiling" in people's minds and whether they could be considered on par with a hate crime, tying it into a potential Department of Justice investigation. Barkley argued the DOJ should not get involved, saying "just because you disagree with a verdict, you can't change the rules." He talked about how races of people are still segregated in different communities all over the country.
Burnett closed by asking Barkley about his comment yesterday that the media doesn't have "clean hands." Barkley called race "the perfect storm for the media," and blasted news networks trying to play up "racial animosity" and having "a white guy and a black guy yelling at each other on television every night."
Watch the video below, via CNN:
—–
Follow Josh Feldman on Twitter: @feldmaniac
Have a tip we should know? tips@mediaite.com
Josh Feldman - Senior Editor