Chris Matthews: If Weiner Stays, Democrats 'Never Get Leadership Back' In The House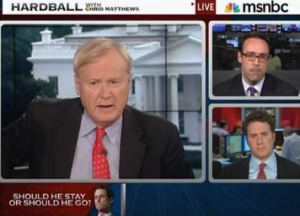 Chris Matthews continued his drumbeat of disgust with Congressman Anthony Weiner's "gross behavior" and wondered when was the Democratic leadership going to step up and force him to resign? Although his guests Ben Smith and Chris Cillizza reported that behind the scenes Democratic leaders are very hopeful Weiner will exit, both agreed that it seems like Weiner might not be going anywhere anytime soon.
Matthews was aware that Weiner's behavior might not be as big of a deal in his home district of New York, but knew that around the country it played much worse. "If you're a blue dog Democrat from a conservative culture part of the country . . . your life is getting difficult enough defending the East coast and the left coast Democratic party, they're too far left," Matthews said. From there he issued a stern warning to the Democratic party at large:
"If [Weiner] stays, [Democrats] never get the leadership [in the House] back. They never get the speakership back. Because the people in the rural areas of this country who are Christian, conservative, culturally – you can say 'backward' if you want – they don't like this stuff."
Smith thought it was too early to make such broad statements, but Cillizza agreed that the sooner this story is over, the better it would be for Democrats. Matthews, however, like a true "Paul Revere" repeated his warning that the Democrats will not be coming to a majority position in the House of Representatives if Weiner is still there next by the next election season.
Watch the clip from MSNBC below:

Have a tip we should know? tips@mediaite.com