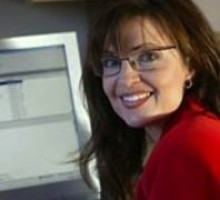 Regardless of whether or not you support Sarah Palin, it's wildly apparent that the former governor of Alaska has contributed to pop culture in a way few other politicians ever have (save, perhaps, for Bill "I Did Not Have Sexual Relations With That Woman" Clinton and Rick "Santorum" Santorum). Palin's influence is such that, with a single sound bite, she can send the entire nation into a tizzy over whether or not bells were involved in Paul Revere's famed ride, with the debate even spilling over onto Wikipedia.
Now, Palin has managed to alter the definition of a commonly used online slang term. "WTF," for those unfamiliar, is shorthand for "what the [redacted]," a phrase commonly used to indicate surprise or, in some cases, disgust. You may recall that, back in January, Palin caused many to scratch their hands when, during an interview with Fox News' Greta Van Susteren, she described America's "Sputnik moment" as a "WTF moment."
Tommy Christopher, Mediaite's expert on all things "WTF," explained that Palin had been referring to the the theme of Barack Obama's then-recent State of the Union Address: "Winning The Future."
And, now, she's used the same abbreviation again! Clearly, she has managed to create a brand new meaning for a phrase more commonly used to respond to unsolicited pictures of congressmen's genitals. This was posted today on Palin's Facebook page: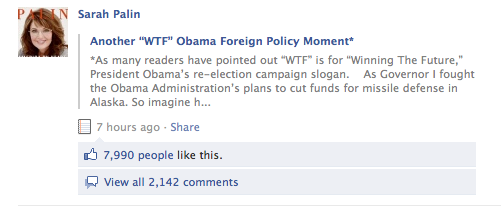 Some of her Facebook fans have taken exception to this usage (one wrote, for instance, that it "lacked class"), while others have jumped on the WTF train (another user even offered a new meaning for "OMG" – "Obama Must Go").
Ultimately, however, this is quite a clever move on Palin's part (or, perhaps, on the part of her team), because creating a special vocabulary and "inside jokes" with your fans and supporters is one way of cultivating a sense of togetherness, especially in the face of detractors. LOL!*
*Lamestream ogres lie
h/t Buzzfeed
Have a tip we should know? tips@mediaite.com