Chris Matthews Show Panelist: Obama In 2008 Was 'Hope,' In 2012 He'll Use 'Politics Of Fear'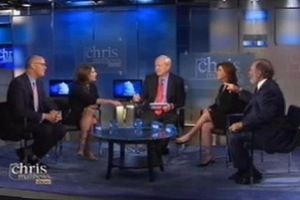 Chris Matthews hosted a discussion with his guests regarding what President Obama might have to do in order to appeal to independent voters and get re-elected? While some on the panel suggested it will be difficult to get young voters out in the same numbers as in 2008, New York magazine's John Heilemann warned Matthews that this time around in 2012, the "hope" is very much gone and Obama's strategy will be the "politics of fear."
Heilemann predicted:
"The core difference between 2008 and 2012 is going to be the politics of hope, which we saw in 2008, versus the politics of fear in 2012. They won't call it that, but so much of this campaign in terms of driving turnout among all these groups, is going to be about making the Republican alternative totally unacceptable."
Regardless if the public wants to the see Obama trash his opponents, Heilemann says the "onslaught of negative advertising" against the Republican nominee will be used quite simply because it works. Matthews was skeptical that such a strategy was smart, and even Joe Klein thought that if Obama goes too negative, it merely will encourage many voters to just stay home and not vote at all.
And in a final revealing moment, Matthews best summed up the likely mood of the elusive independent voter, as someone who is "just looking for something better than they got – and it may be Obama – but it's got to be better than the first term." Therefore, even if "hope" can't be part of Obama's campaign again, it looks like "change" from the present will still need to be featured prominently in order to re-energize his support.
Watch the clip from The Chris Matthews Show:

Have a tip we should know? tips@mediaite.com