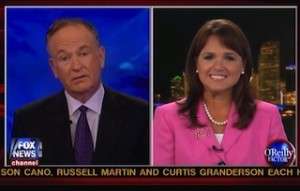 Christine O'Donnell appeared on The O'Reilly Factor as part of her promotional tour of her new book Troublemaker. Host Bill O'Reilly appeared to provide a much more welcoming interview than the one given by Piers Morgan (that spawned the publicity drawing mid-interview walk-off.) While O'Donnell mostly described how she had been victimized by both the media and her political supporters, she did get the chance to give Karl Rove some stick of her own.
For the uninitiated, the mid-term election of last year was viewed by many in the media as some sort of "GOP Civil War." One one side there was the established base of traditional GOP candidates (and the political consultants who had enjoyed great success with the status quo.) On the other was the upstart Tea Party movement (who appeared to have been effectively co-opted by the GOP) and the non-traditional candidates that they put forth. Ms. O'Donnell eagerly played the part of poster-child for the later.
The epicenter of this conflict really started on Fox News when Rove openly questioned the credibility and competence of Ms. O'Donnell as a serious senatorial candidate. O'Donnell made reference of this to O'Reilly, saying (rough transcript):
I recently extended the olive branch to Karl Rove in order to make Barack Obama a one term president we have got to unite. Yet he is continuing to bash the Tea Party and I just don't get it. All I can think that maybe he does think that compromising is the only way Republicans can win.

…

Karl Rove continued to put out misinformation about me and my background even though we gave him the information. The other thing about it is that i was ahead in the polls before the Republican infighting. I was leading against the Democratic opponent before my own party turned on me and CNN exit polling shows that was Castle wouldn't have won either.
Watch the clip below, courtesy of Fox News:
Have a tip we should know? tips@mediaite.com