Christine O'Donnell Returns To Defend Tea Party; Advises GOP To Abstain From Debt Crisis Compromise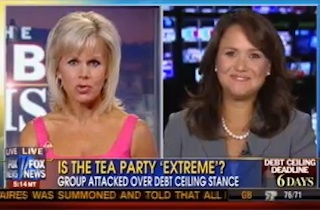 The Tea Party's role in the current discussion over how the federal government should best resolve the debt crisis has become a debate unto itself. Some pundits have made clear that the Tea Party is to blame for the possibly impeding default (if they even exist at all.) So who does the conservative opiniotainment program Fox and Friends turn to for clarity on this topic? None other than Tea Party poster candidate Christine O'Donnell (remember her?) who gave a full-throated defense of the Tea Party movement, crediting them for keeping dialogue going.
"They're making sure that we don't just get away with short-term fixes so that…Obama can get re-elected in 2012," O'Donnell told host Gretchen Carlson. The Delaware GOP Senatorial candidate's position predictably declared that the current debate over debt was due to Republicans elected because of their loyal to the Tea Party movement are standing firm on the position of fiscal responsibility. However, there are just as many (if not more) who see this obstinate position and lack of compromise as something more worthy of blame than praise.
After O'Donnell failed in her attempt to become the junior senator from Delaware, many theorized that she would end up as a host of a Fox News show, though Fox News consistently denied such a claim. Since then, she has kept a low profile and has avoided television appearances, though its not clear whether that was her strategy, or if she had simply never been invited to speak on cable news. Either way, one wonders if we will start to see more of O'Donnell, just in time for the coming political season, one in which the Tea Party is sure to play another significant role.
Watch the clip below, courtesy of Fox News:
Have a tip we should know? tips@mediaite.com