CNN Panelist: 'You Are An Idiot' If Your Presidential Vote Depends On Marijuana Legalization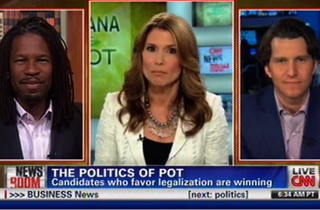 CNN's discussion this morning of marijuana legalization as a campaign issue put most of the panel squarely in Mitt Romney's camp, with guests Lz Granderson and Will Cain agreeing that there were more important things to talk about in the national political sphere than marijuana, despite several state-level candidates actively campaigning on a pro-marijuana platform in California. What's more, Granderson appeared peeved that anyone would waste time on the issue, calling single-issue marijuana voters "idiots," plain and simple.

RELATED: CNN Panelist: You Can't Tell Difference Between An Anti-Obama Ad And Fox News
Host Carol Costello asked the two whether they thought "we will hear about marijuana" in the 2012 campaign. Neither was quite receptive. "I hope not– we just have way too many more important issues," Granderson replied, joking that he "didn't want your viewers to think you hired a pothead" and had to rush to buy eye drops for his allergies before going on air. Cain agreed, adding that President Obama in particular had not behaved in a way that indicated he had any interest in discussing legalization, having "cracked down on medical marijuana factories to an extend that even George W. Bush did not."
Costello wondered whether any voters would vote against the President explicitly because of his stance on marijuana, something Granderson found ridiculous. "They are idiots, basically," he remarked, "if you are voting on one single issue, especially one issue that is so peripheral, you are an idiot, I don't want to mince words here." He once again emphasized that "we have way too many important things to talk about" to care about marijuana as a top issue. The two then debated the war on drugs, a legitimate issue to both independent of their opinion of discussing the use of the drug itself.
The segment via CNN below:



—–
» Follow Frances Martel on Twitter
Have a tip we should know? tips@mediaite.com