CNN Reporter Confronts Mayor Who Said He'd 'Have Tacos' To Appease Latino Residents
CNN Confronts Mayor Who Said He'd 'Have Tacos' To Appease Latino Residents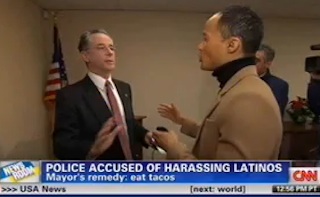 On Wednesday, CNN's Jason Carroll confronted the controversial mayor of East Haven, Connecticut Joseph Maturo Jr who was under fire for saying that he would help Latinos in his town by eating tacos.
"My sincerest apologies go out to the East Haven community and, in particular, the Latino community for the insensitive and off-collar comment that I made to WPIX reporter Mario Diaz yesterday regarding the recent events affecting our community and our police department," Maturo said in a statement. "Unfortunately, I let the stress of the situation get the best of me and inflamed what is already a serious and unfortunate situation."
RELATED: John McCain: 'We Have To Fix Our Problems With The Hispanics'
"Just tell us, do you think the apology would be enough?" grilled Carroll. "I think that would help."
"I certainly hope so," exclaimed Maturo. "I created something that went viral. It was something that the media says gotcha, and ran with it. I accept full responsibility. I have apologized profusely!"
"It would be helpful if you at least tried to explain what you were trying to say about the Latino community?" Caroll continued. "That's what I'm saying."
"There dare I go getting myself in trouble again!" Maturo dodged.
"What were you trying to say?" Carroll pressed.
"All I meant was I don't feel bad going into any community — I didn't feel persecuted by what happened in our town prior to that, so by going into another section — that's all it meant, is that I could go into a different section of the community and have a bite to eat. I didn't feel — I didn't feel as though I was being for our town was being discriminatory or that I was — I wasn't afraid to talk to or be in the company of anybody."
Watch the segment below via CNN:

(
h/t CNN
)
Have a tip we should know? tips@mediaite.com