CNN vs. Ted Nugent, Day 2: Outrage Follows Rock Star Calling GOPer His 'Blood Brother'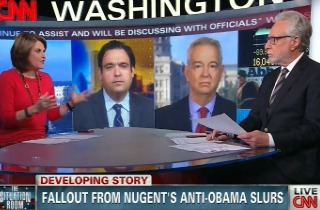 Rock star Ted Nugent has developed an unsavory reputation for issuing vile attacks on Democrats and particularly President Barack Obama. His latest appeal to excessive rhetoric occurred this week when he called Obama a "subhuman mongrel," a phrase which Blitzer has repeatedly, on several occasions, reminded his viewers was popularized by Nazi propagandists.

But, amid the firestorm of controversy that those remarks ignited, an equally offensive phrase uttered by Nugent went unnoticed. Fortunately, CNN is on top of it.
While introducing Texas Republican gubernatorial hopeful Greg Abbott, Nugent called the GOP candidate "my blood brother."
… You know who else called each other "blood brother?" The SS.
RELATED: Blitzer Gets Super-Detailed on Nazi Origins of Nugent's 'Subhuman Mongrel' Obama Remark
"I think when somebody comes out there and says you're his blood brother and you're standing in front of a sign that says 'Abbott,' at a certain point, Abbott has to come out and say something about the language that Ted Nugent is using," CNN Chief Political Analyst Gloria Borger opined.
Someone should be charging for this kind of savvy political consultation.
Given the legitimacy of the coverage sparked by Nugent's original hateful comments toward the president (albeit not especially original, given that the source has also wished physical harm on Obama), this latest offense feels like much smaller ball. What gives?
"Ted Nugent is also firing back at CNN's coverage of all of this, as well," CNN correspondent Ed Lavandera later remarked.
Oh! The puzzle is starting to come together.
The only other possible explanation for this segment is that CNN has decided to cater to MSNBC's audience while that network is preempted for the Olympics. Beyond that, and the obvious self-promotion, I'm at a complete loss.
Watch the clip below, via CNN:
[Photo via screen grab]
— —
> >Follow Noah Rothman (@NoahCRothman) on Twitter
Have a tip we should know? tips@mediaite.com