Has CNN Entered Gray Area Of Becoming, Not Just Reporting, The Story In Haiti?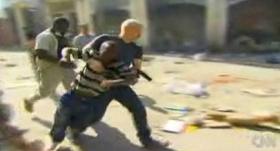 CNN, like all the news networks, is devoting major resources to the Haiti earthquake tragedy and we're seeing excellent reporting.
But through a series of Haiti-related occurrences, questions are being raised about the murky line between journalism and becoming part of the story.
It is important to note upfront that the criticism comes with major caveats – no one wants to diminish the tremendous work CNN is doing both in reporting the story and helping others, in ways that, in some cases, those whose job it actually is to help are not even doing. And it is a given that all networks are doing their part to help direct people to the best places to donate money and other resources that are desperately need in the region.
Which brings us to last night's Larry King special. A star-studded group of celebrities gathered on CNN for two hours to help raise money for Haiti, and by all accounts it was an enormous success (raising more than $7 million in four hours). But where's the line between journalism and activism? CNN put on a two-hour prime time telethon, complete with phone bank, Tweet Suite and celebrity pleas. Jared Leto bought Larry King's suspenders.
And this comes a few days before the real telethon takes place, on Friday. George Clooney, Wyclef Jean and CNN's Anderson Cooper will anchor the roadblocked telethon, airing commercial-free on ABC, NBC, FOX, CNN, BET, The CW, HBO, MTV, VH1 and CMT. Last week, Inside Cable News addressed the potential conflict of interest with putting Cooper in the anchor role.
I don't care how pure Cooper or CNN's intentions are, and I'm going to assume for the sake of argument that they are indeed pure. It just looks wrong. And looks matter because they shape people's perceptions.
Is it for a good cause? Of course. But Cooper playing the role of host, even from Haiti, leads down the path of potentially diminishing his news anchor role.
> Update: A CNN spokesperson says, "Anderson Cooper will be reporting form Haiti for the MTV telethon this Friday – he is not hosting."
Cooper played a different role yesterday – in one of the most unforgettable videos yet from Haiti. He moved from anchor to hero, carrying a bloody child to safety in a powerful video that replayed several times on CNN (and with good reason). But even something like this – it can start down the slippery slope of Cooper becoming the story as much as covering it.
The Los Angeles Times' Matea Gold examines the trend of TV doctors becoming real doctors, across all networks. "Some media ethicists said medical correspondents should consider forgoing their journalistic roles if they're going to participate in the relief effort," she writes.
One of the most visible is CNN's Dr. Sanjay Gupta, who has been thrust into the "doctor" role in several key instances. "I don't think our intention is to ever make the story about myself," he said. "I think people innately understand that there is a tremendous medical need down here, and if you can help, you should help."
Again, all of this is a fine line, and there's no right answer. On some level, Haiti needs all the help it can get, and no matter what your job is down there, whether it's to bring aid, keep the peace, or yes, hold a camera or microphone, you should do whatever you can to ultimately save lives. But when we step back from this story in a month or even longer, how will we remember what Anderson Cooper did for CNN? Will it be his reporting, him carrying a child to safety or his toss to the star of Ocean's Eleven? Does it matter?
There is one thing we can all agree on (well, almost everyone): help.
Check out videos from all parts of CNN's Haiti coverage on the next page.
>>> NEXT PAGE: Videos of King, Cooper, Gupta.
Have a tip we should know? tips@mediaite.com