CNN's Howard Kurtz Takes On Daily Caller Writer Over Neil Munro's Heckling Obama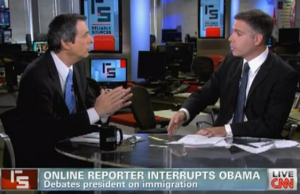 On Friday, The Daily Caller's Neil Munro made headlines when he interrupted President Obama during his remarks about his new immigration policy. While Tucker Carlson praised and defended Munro, others weren't so kind, including Reliable Sources' Howard Kurtz. On Sunday, he spoke to Current TV's Cenk Uygur as well as The Daily Caller's Matt Lewis, who wasn't keen on criticizing his colleague.
RELATED: Daily Caller Reporter Heckles President Obama During Immigration Remarks
Kurtz first turned to Uygur's take on this "monumental act of rudeness." Uygur called it "completely and utterly unacceptable," arguing "we need to have some sense of decorum." However, while we need to "let people say their piece," Uygur also said our media isn't aggressive enough in questioning the president.
Lewis started by noting Munro's being an Irish immigrant and a "seasoned reporter." He then said we need to put the incident in context, and began to note how the immigration policy bypasses Congress — at which point Kurtz interrupted him, saying that's not what this discussion is about.
"I've only got a few seconds," Kurtz said. "Would you have done what he did? Was he wrong?"
Lewis pointed to Uygur's call for more aggressive questioning, asserting that since there wasn't going to be a question-and-answer session, that was the only chance Munro had to speak out. Kurtz countered, "It happens all the time, he had no business interrupting the president." Defensively, Lewis began to make a point about being deferential to authority, eventually saying, "He did the right thing."
Kurtz concluded, "I understand that you have to defend your guy, but that's a ludicrous answer."
Take a look, via CNN:

Have a tip we should know? tips@mediaite.com