CNN's Stelter Grills Wasserman Schultz: 'Sunday Night's a Terrible Time to Have a Debate'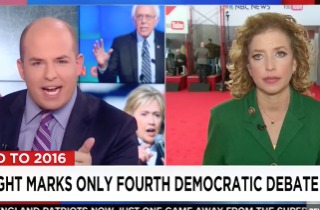 CNN's Brian Stelter confronted DNC Chair Debbie Wasserman Schultz this morning over what pretty much everyone has been wondering about: whether the Democrats actually want people watching their debates.
Stelter pointed out that tonight's NBC News debate is happening opposite popular network programming and said, "Sunday night's a terrible time to have a debate." He pointed out that with so many TV viewers distracted, not enough people would likely watch, and so he asked, "Isn't it in your interest to have high ratings for these debates?"
Wasserman Schultz pointed to the ratings for the last few debates and how we'll they've done compared to past election years. But as Mediaite's J.D. Durkin wrote back in November, it's not like she's going out of her way to get people to watch.
Tonight's debate is the Democrats' fourth. Their first fell on a Tuesday night, but the last two debates took place on Saturday nights (the latter falling on the Saturday before Christmas). After tonight, there are two more debates for the Democrats––one on PBS, the other on Univision––that fall on a Thursday and a Wednesday.
Stelter pointed out that the next debate is after Iowa and New Hampshire while the Republicans have two more between now and then. Wasserman Schultz pointed out they have more candidates, but also ridiculed the GOP debates by comparing them to a trainwreck you can't take your eyes off of.
So yes, there will be a Democratic debate tonight. You'll find it on display in the bottom of a locked filing cabinet stuck in a disused lavatory with a sign outside the door saying "Beware of the Leopard."
Watch above, via CNN.
[image via screengrab]
— —
Follow Josh Feldman on Twitter: @feldmaniac
Have a tip we should know? tips@mediaite.com
Josh Feldman - Senior Editor