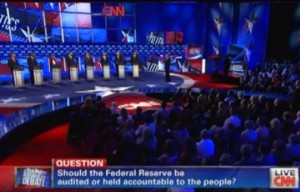 At Monday night's CNN/Tea Party Debate, moderator Wolf Blitzer asked Rep. Michele Bachmann if she agreed that fed chairman Ben Bernanke should be tried for treason. Bachmann passed on the question of Bernanke's possible trial for his life. In a moment reminiscent of last week's Death Penalty Ovation, the audience was unequivocal, cheering the suggestion loudly. Given the opportunity to recant, Gov. Rick Perry corrected Blitzer as to his original statement, and doubled down instead.
Blitzer actually framed his question to Bachmann inaccurately, saying that Governor Perry "suggested that Ben Bernanke potentially should be tried for treason for what he's doing."
While not way off base, it was at least a slight upsell from Perry's actual statement, which was that "Printing more money to play politics at this particular time in American history is almost treasonous in my opinion."
In any case, while Bachmann twice declined to agree with the stronger language (saying only that she would not re-appoint Bernanke), the audience ate it up, cheering loudly. It's unclear at this time whether those cheering were from the CNN half of the audience, or the Tea Party half.
Blitzer then put the question to Perry, who corrected Blitzer's paraphrase, and called it a "statement of fact. I am not a fan of the current chairman allowing that Federal Reserve to cover up bad fiscal policy by this administration."
Fair enough. While "not a fan" means not shelling out the dough for a CD to some people, to others, it means accusing them of near-treason.
Here's the clip, from CNN:
Have a tip we should know? [email protected]