Coulter Clashes With Hannity Over The GOP: 'Passion And Principle Is Great, But You Need To Win Elections'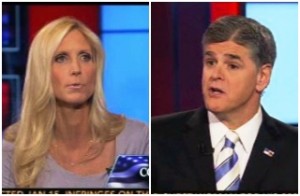 Sean Hannity tonight said Congress should not have passed a continuing resolution on the budget earlier today, arguing that the GOP needs to take a stand if it is going to successfully repeal Obamacare. Ann Coulter disagreed vehemently with Hannity, saying that the Republican party needs to prioritize winning elections over "passion and principle" until they have clear majorities in both the House and Senate.
Hannity told Coulter he likes Paul Ryan's budget, but said it is not going to repeal Obamacare, so Republicans need to take a stand by being willing to "shut down the government and deal with the president demagoguing." Coulter said that wouldn't be a good idea, arguing the bigger issue the GOP needs to focus on is actually winning. She said that "passion and principle is great, but you need to win elections, and that's how you actually change stuff."
RELATED: Hannity And Coulter Battle Over Whether House GOP Should Give In To Obama On Taxes
Coulter argued that the government shutdown under Bill Clinton actually hurt Republicans, but Hannity shot back by saying the GOP held onto the House after it. She rolled her eyes at the idea of shutting down the government just to spite the president, saying that the party runs the risk of looking "impotent." Hannity said that once Obamacare is fully implemented, it will be even harder for the GOP to fight for repeal. Coulter agreed that the health care law is horrible, but said the GOP needs to win in 2014 and 2016 if it wants to be in a better position to deal with it.
Hannity argued that "the single best thing" the Republican party can do to energize the base is to "take a stand against Obama," citing the public response to Rand Paul over his drone filibuster. Coulter said that was more a consequence of the media happening to be in agreement with a Republican on something, though she admitted she personally loves drones.
Watch the video below, courtesy of Fox News:
—–
Follow Josh Feldman on Twitter: @feldmaniac
Have a tip we should know? tips@mediaite.com
Josh Feldman - Senior Editor