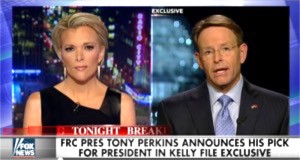 Family Research Council (FRC) president Tony Perkins added his name to the list of prominent social conservative activists who have come out in support of Sen. Ted Cruz. Revealing the news to Megyn Kelly on her show Tuesday night, Perkins said that Cruz was "best prepared to pull this nation forward, pulling it out of the tailspin that this president put us in."
Perkins appeared unworried by Cruz's reputation for alienating his colleagues, saying that leadership was not merely about "making deals." He was not swayed by accusations that the Texas senator would be unable to build consensus. "This is about is standing on conservative principles," Perkins said. "Not his standing in the polls or his standing with his colleagues." He continued:
He's smart, he's bold. […] He's not afraid to upset people to do the right thing. He's not worried about making everybody happy, and I think if you're making everybody happy, you're not doing the right things.
Perkins said his decision was informed more by Cruz's staunch conservative stance of social issues, and the likelihood that he would appoint Supreme Court Justices that would oppose marriage equality and reproductive rights. Perkins expanded on his reasoning in a Facebook post:
Ted is a constitutional conservative who will fight for faith, family and freedom. He will defend our right to believe and live according to those beliefs. Our families will be protected and freedom will once again mean something in America.
Kelly described Perkins as an "influential man in conservatives circles, in particular with evangelicals."
Perkins has called the "It Gets Better" initiative, whose aim was to reduce suicides among bullied LGBT young people, a "disgusting" effort to recruit children to a lifestyle of "perversion." He has also said that pedophilia is a "homosexual problem."
Right Wing Watch has compiled a comprehensive list of his some of most outrageous things Perkins has said about LGBT activists, Muslims, and "liberal Jewish folk," among others. They also note that the FRC president has a checkered political history:
He spoke at least twice to the white nationalist Council of Conservative Citizens and reportedly "paid former Ku Klux Klan Grand Wizard David Duke $82,500 for his mailing list" while working as the campaign manager for failed U.S. Senate candidate Woody Jenkins. "The Federal Election Commission fined the campaign Perkins ran $3,000 for attempting to hide the money paid to Duke," reported The Nation.
Perkins noted that his endorsement of Cruz was a personal endorsement; he was not speaking on behalf of the organizations he is involved with.
You can view video of Perkins's endorsement above, courtesy of Fox News.
Have a tip we should know? tips@mediaite.com