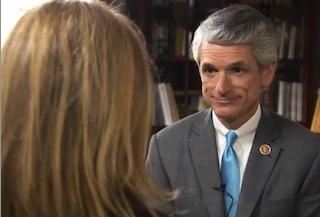 When the House of Representatives first voted to fund the entire government except for President Obama's Affordable Care Act, only one Republican voted against the measure: Rep. Scott Rigell (R-VA). The Daily Show's Samantha Bee sat down with Congressman Rigell to try to get inside the mind of the man who betrayed his own party to try to stop the government shutdown.
"Meet Representative Scott Rigell, traitor," Bee began by saying in her report. When he explained that he dislikes the "Unaffordable Care Act" as much as his fellow Republicans but did not believe Congress needed to shut down the government to prove that point, Bee asked him, "Are you just experimenting with reason to see if you like it?"
"It was important for me to represent sane budgeting in Washington," Rigell replied, drawing utter disbelief out of his interviewer. He proceeded to reject the notion that Democrats in Congress are his "sworn enemies" and refused to accept that this makes him a "chicken."
As reasonable as Rigell has been during the budget debate, he was equally game to play along with The Daily Show's antics, urging Bee to "breathe" as she held her breath in order to make him do as she told and suggesting she go to the hospital when she revealed the "blood" pouring from her head.
Rigell not only stood up against the shutdown before it happened, but was also one of the most outspoken Republicans for ending it once it began. On Tuesday he told CNN's Dana Bash, "I don't think the continued shutdown advances our conservative agenda."
Watch video below, via Comedy Central:
[photo via screengrab]
— —
>> Follow Matt Wilstein (@TheMattWilstein) on Twitter
Have a tip we should know? tips@mediaite.com