Dan Abrams Quells Fear Of Fox News Personalities Turned Politicians On Parker/Spitzer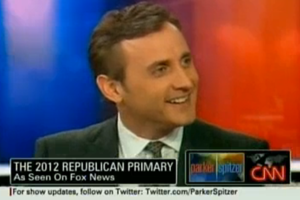 With the 2010 midterm elections an increasingly distant memory, the media is already seeking the breakout star of the 2012 elections, and having to look in the mirror. Given the number of potential presidential candidates accumulating in cable news– especially Fox News– the power of a candidate who can command the airwaves is a cause for concern in some circles. Mediaite founder Dan Abrams visited Parker/Spitzer tonight to weed out the celebrity panic over the politics/media overlap.
Abrams noted that most of the potential candidates in question– people like Sarah Palin or John Bolton— are "commentators, not hosts of shows," and as such, "they have to answer questions." The roles they play on Fox News are not entirely unlike those of elected officials that go on that network and others, he continues, because they rarely have command of the questions. Hosting a show gives a potential candidate a much greater latitude to avoid difficult questions– something, he noted, that host Eliot Spitzer was now enjoying in a way he never did as governor. Spitzer countered that the added airtime was still a boon for name recognition, which potentially made their presence on the screen unfair, especially to others who had to govern during the time commentators were on the air. To this, Abrams responded with two counterarguments– that being on the airwaves as a commentator was an overrated benefit ("Sarah Palin is an occasional commentator on Fox News– so what?") and that the hype mostly surrounded the concept of celebrity, and not that of pundit. "There are some famous people who are going to be running for office," he replied with an air of mock surprise, implying that, while the avenues from fame to power may have evolved, they are certainly not new, nor do they cut in partisan ways.
The group also discussed the Wikileaks scandal, which Abrams described as "unique," especially compared to the organized mode in which, say, the Pentagon Papers were released. Unlike that leak, he explained, "these [are] messages that will be taken enormously out of context… [and] that's where the media's responsibility is."
The full discussion from tonight's Parker/Spitzer via CNN below:
Have a tip we should know? tips@mediaite.com