Dana Perino Lashes Out At 'Asshole' Jim Carrey Over Guns, Shocks Red Eye Panelists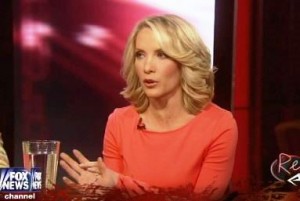 Fox News contributor Dana Perino criticized actor Jim Carrey for his new video promoting gun control, going so far as to call him an "asshole." Perino said he's a coward, too, for going after the late Charlton Heston.
The Five co-host and frequent Red Eye panelist was asked by host Greg Gutfeld if Carrey, a popular comedic actor, was a hypocrite for being "vocal gun critic" while having armed body guards. "In Jim Carrey's case, it doesn't make him a hypocrite, it makes him an asshole," said Perino.
Perion moved quickly from the asshole comment to rip Carrey for his attacks on Heston, an Oscar winner and former president of the National Rifle Association.
RELATED: Jim Carrey Trashes Fox News 'Bullies': 'Petty & Poisonous' Network 'Nothing More Than A Giant Culture Fart'
"Here's my biggest problem with it. He goes after somebody who can't defend himself. He goes after Charlton Heston who passed away and it doesn't even make any sense. Does he think any one of his fans knows, that Charlton Heston—one, all of the great movies he did, and that he was the president of the NRA for five years? They don't know that," he said.
The panel then had a good laugh about Perino being the first panelist to use the word "asshole" on the show. Jesse Joyce apologized to all the viewers that, in their drinking games at home, him as the first guy to say "asshole" on the show.
"Do all the White House secretaries talk that way?" asked Nick Searcy.
"As you know, I have given up any pretense of any semblance of a good reputation since I've come on this show As I used to have a real job now I comment on cat videos on Red Eye," said Perino.
Watch clip below via FNC
Have a tip we should know? tips@mediaite.com