Dana Perino: White House Ignoring Advice From 'Friends' Cory Booker, Campbell Brown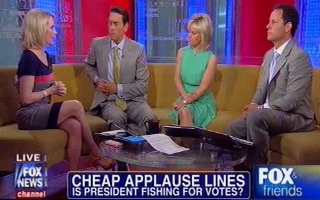 Former Bush White House Press Secretary and host of The Five, Dana Perino, appeared on Fox & Friends on Monday to discuss what she described as "two broadsides" by Newark, N.J. Mayor Cory Booker and former CNN anchor Campbell Brown who chided the Obama campaign for their attacks on Bain Capital and their outreach to women voters respectively. Perino said that instead of taking this friendly advice, the Obama campaign decided to "basically trash two of their friends."

RELATED: Dana Perino Slams Democrats Fundraising Off Gay Marriage As 'The Crass Politics Of The Left'
Fox & Friends fill-in host Clayton Morris introduced Perino and asked her to weigh in on a clip of Mayor Booker on NBC's Meet the Press over the weekend where he called the Obama campaign's attacks on Bain Capital and Romney backers attacks on Rev. Jeremiah Wright "nauseating."
"How many people passed out at the White House when they heard that," asked co-host Gretchen Carlson.
"I think that most people across America that were watching yesterday said, 'that's exactly right,'" said Perino. "Who is this guy Cory Booker? I kind of like him. He's a good leader. He's a voice of reason. Let's listen to more of what he has to say."
Morris then played a clip of a YouTube video Booker made hours after his appearance in which he retracts some of his comments from Meet the Press. He said that Romney has made his tenure at Bain "the centerpiece of his campaign," and therefor scrutiny of his time with the private equity firm is "reasonable." Booker continued, saying "I encourage it for the Obama campaign to examine that record and to discuss it. I have no problem with that."
"Cory Booker is a friend of the White House," Perino said. "In some ways, your friends give you the best advice. They could have taken that yesterday as some friendly advice. A brush-back pitch to let them know that what he is hearing across the country—what Cory Booker is hearing is that this isn't working.
Perino said that Booker's clarifying YouTube video appears "disingenuous" and did not look like "something that would happen in America." She said that by attempting to make Booker repair whatever damage was done by his NBC appearance, the White House has made the situation worse.
Carlson replied that she is hearing a lot of Democrats do not agree with the Obama campaign's attacks on Bain and see it as promoting "class warfare," which she says they are uncomfortable with.
Perino was also asked to weigh in on an editorial in the New York Times on Sunday authored by Brown who took on the Obama campaign's outreach to women voters as being "condescending."
Brown disclosed in her op-ed in the Times that her husband is Romney campaign advisor Dan Senor.
"Yesterday, the White House gets these two broadsides, and instead of saying 'that's good advice, let us take some time to think about that and come back out and have a strong commencement address,' that President Obama's going to give today," said Perino. "Instead, they basically trash two of their friends. I think it's bad."
Watch the segment below via Fox News Channel:
Have a tip we should know? tips@mediaite.com