David Axelrod Blasts Romney For Paying More In Taxes Than He Was Required To Pay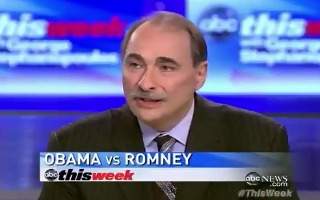 President Barack Obama's senior campaign strategist, David Axelrod, appeared on ABC's This Week on Sunday where he attacked Mitt Romney for paying more in taxes than was required. Axelrod cited Romney's own words when he said that anyone who paid more in taxes than they had to would disqualify them from the presidency, and said that Romney's action have disqualified him by his own standard.

RELATED: Harry Reid Claims Romney 'Manipulated' His Returns To Show He Paid Taxes
After having interviewed Republican National Committee Chairman Reince Priebus who characterized the past week as having been a good one for Republicans, George Stephanopoulos asked Axelrod if he agreed.
"I don't think anyone else would define it as a good week, but it was an enlightening week," said Axelrod. He recalled how most of the week's coverage focused on a hidden camera video of Mitt Romney at a fundraiser describing how he would have trouble attracting support from the 47 percent of Americans pay nothing in income taxes.
Axelrod went on to discuss Romney's release of his 2011 tax returns and a summary of the past 20 years of tax filings. Axelrod went after Romney for not taking the deductions he was owed in order to reach a percentage of income paid in taxes that more closely resembled the rates most Americans pay.
"At the end of the week we saw Mitt Romney manipulate his tax returns to try to plump up his tax returns to 14 percent," said Axelrod.
Last week, he said that on your own air anybody who didn't take the tax deductions they were owed was not qualified to be president. Well, I guess he's not qualified because that's exactly what he did last week to try and get his number up from 9 or 10 percent to 14 percent.
Axelrod said that he thought it was fair to say that many of the 47 percent Romney "slandered" pay a higher tax rate than he did in 2011.
Stephanopoulos asked if there was any traction left in the issue of Romney's taxes after his disclosure last week. Axelrod replied that he did because his filings showed that Romney invested in Chinese oil companies and in firms that hedge against U.S. treasuries. Furthermore, the summary Romney released is not a sufficient disclosure. Axelrod repeated that he thinks Romney should release more past years of full tax returns.
Watch the clip below via ABC:
> >Follow Noah Rothman (@Noah_C_Rothman) on Twitter
Have a tip we should know? tips@mediaite.com