Dem Congresswoman Suggests 'Criminal Prosecution' For Matt Gaetz at Cohen Hearing
Prior to this long day of Michael Cohen testifying, you might remember all the way back to yesterday when Congressman Matt Gaetz (R-FL) tweeted a threat at Cohen: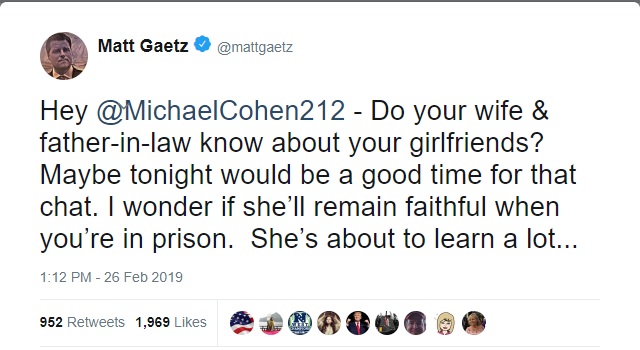 Gaetz took down the tweet after being lambasted for apparent witness intimidation and being scolded by Speaker Nancy Pelosi directly. Gaetz claimed he was just "witness testing, not witness tampering."
In Wednesday's hearing Congresswoman Stacey Plaskett (D-VI) first got Cohen to remind everyone that he was, up until a few months ago, an RNC deputy finance chair.
She then made a point of addressing Gaetz's tweet:
"On behalf of the many members here who have expressed to your family our apologies to your family. But I want to apologize for the inappropriate comments and tweets that have been made by other members of this body and as a former prosecutor and as former counsel on House Ethics, I think there should be a referral to the Ethics Committee of witnessing intimidation or tampering."
She mentioned Gaetz by name and explicitly added that this could lead to "possibly him being referred for criminal prosecution."
You can watch above, via MSNBC.
Have a tip we should know? [email protected]
Josh Feldman - Senior Editor