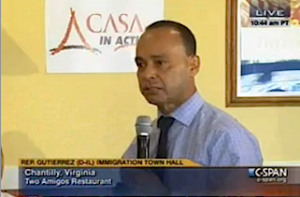 During a town hall event in Chantilly, Virginia this week, Rep. Luis Gutiérrez (D-IL) explained why he believes it is so important for the House of Representatives to pass comprehensive immigration reform legislation when Congress returns from recess next month. If we don't change the way we deal with immigrants in this country, Gutiérrez warned, people will die, women will be raped and children will be orphaned.
Gutiérrez was laying out his reasoning for supporting the Senate's bill, despite the "harsh conditions" it establishes along the U.S./Mexico border, when he began describing in great detail some of the consequences for undocumented immigrants if it does not pass.
"Today, someone is going to die in that desert, trying to return to their families. Women and men are going to die in that desert. Someone's going to lose a finger, a hand, an eye, a life today because an unscrupulous employer is going to put them in harm's way, someone's going to die.

There's a woman that's going to be raped in a field somewhere in America today because she has no rights in this country, and we need to end that.

There are children who are going to cry and there are marriages that are going to be destroyed because someone is going to be deported today, and there are going to be children that are going to be left orphaned in this country."
"For all of those reasons," Gutiérrez said, House Democrats "would accept" the Senate bill as it currently stands.
Watch video below, via C-SPAN:
[h/t NRO] | [photo via screengrab]
—
>> Follow Matt Wilstein (@TheMattWilstein) on Twitter
Have a tip we should know? tips@mediaite.com