Dem Senator Dismisses Gun Lobby 'Scare Tactics' Presented By Fox Host: 'Anybody Saying That Is Lying'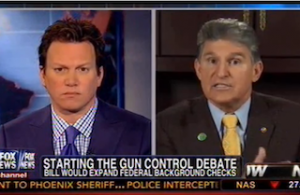 Following his joint press conference with Republican colleague Sen. Pat Toomey yesterday, Sen. Joe Manchin III (D-WV) went on Fox News this morning to defend the "Public Safety and Second Amendment Rights Protection Act." Manchin found a very critical interviewer in Fox host Rick Folbaum who pressed the senator to defend his expanded background checks measure from various opposition arguments.
Folbaum began the interview by questioning the title of the Manchin-Toomey act, saying "a lot of gun owners" don't see it as protecting their rights. "They see any kind of expansion of background checks as an infringement upon their Second Amendment rights," he asserted. "What do you say to them?"
"People have been using scare tactics," Manchin said, urging people to read the bill rather than listen to the ways people are describing in on TV. "I don't talk to any of my gun enthusiasts, if you will," he continued, "that does not believe that we shouldn't do a background check on finding if someone is a criminal." He added that all he is trying to do with his bill is make sure "everybody will be treated the same" when it comes to background checks by not allowing exceptions for private sellers at gun shows and sales over the internet.
During the interview, Folbaum presented Manchin with several other objections that have been brought up by spokespeople for the NRA and Gun Owners for America, such as the ideas that the proposed legislation "punishes law abiding citizens" and it could lead to the "government coming in and taking away people's legally obtained weapons."
Each time, Manchin denied Folbaum's claims and directed viewers to his website where they can read the bill for themselves. In response to the notion that the government would be taking away people's guns, Manchin called that suggestion "absolutely, totally false." He added, "anybody saying that is just basically scaring or lying to people."
As the interview came to a close, Manchin, perhaps acknowledging the influential role Fox News plays in this debate, signed off by saying, "We'll need your help, Rick."
Watch video below, via Fox News:
—
>> Follow Matt Wilstein (@TheMattWilstein) on Twitter
Have a tip we should know? tips@mediaite.com