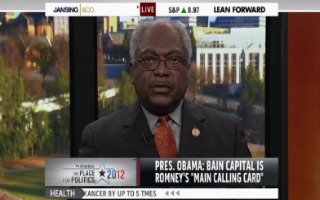 South Carolina Democratic Rep. James Clyburn did not get the memo regarding attacks on Bain Capital… or did he?
Appearing on MSNBC's Jansing and Co. on Tuesday, Rep. Clyburn characterized former Massachusetts Gov. Mitt Romney's tenure at Bain in the most "war on womeny" of ways when he said that Romney's work consisted of "raping companies."

RELATED: Chris Matthews' Fiery Rant Against Cory Booker For 'Sabotage' On Obama's Bain Strategy
Clyburn was asked if it is possible for a backer of President Obama, like Newark Mayor Cory Booker, to have a dissenting opinion on some issues from that of the campaign but still be an effective surrogate. Clyburn did not address that question, and said that he was not sure just how big of a difference there is between the one Booker voiced on NBC's Meet the Press and the Obama campaign on Bain Capital.
He went on to outline several cases in which Bain was involved in the restructuring of some firms prior to their eventual closure. Clyburn said that attacks on Bain were not the same as attacking "free enterprise" itself.
I don't take contributions from payday lenders. I refuse to do that. That's free enterprise. But there's something about that enterprise that I have a problem with. And there's something about raping companies and leaving them in debt and setting up Swiss bank accounts and corporate businesses in the Grand Caymans. I have a serious problem with that.
In Clyburn's defense, it takes a long time to turn a 16,000 ton tanker around. This is the case with any top-heavy campaign. The Bain attacks need significant revision, if not complete abandonment in the face of criticism from so many moderate Democrats.
Clyburn pivoted to a line of attack that I think will be the next major focus of the Obama reelection team; Romney's offshore accounts.
Sooner than later, the Bain attacks will fade – if only because Obama campaign surrogates will tire of answering the obvious follow-ups that take them off message and force them to contend with fellow Democrats that have critiqued that line of attack on Romney.
The Romney campaign could be tempted to let this circular firing squad play out, but they would be advised to go on the offensive. They are currently letting the Obama campaign regroup – they should not. Romney's team should keep the Obama team on the defensive and responding to events rather than shaping them.
Romney's camp was handed a gift in the last 48 hours; they should take advantage of it before they are forced into a defensive posture by the next line of Democratic attack that is already taking shape.
Watch the segment below via MSNBC:
Have a tip we should know? tips@mediaite.com