Donald Trump Blasts 'Dummy' Chief Justice John Roberts On CNBC: 'The Media Got To Him!'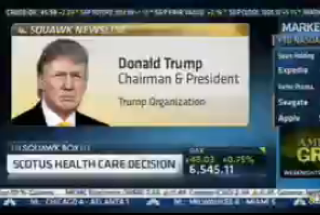 Donald Trump is beyond infuriated with Chief Justice John Roberts, and is expressing it the only way he knows how– by following up his angry tweet with an appearance on CNBC's "Trump Tuesday," telling the Chief Justice he should be "ashamed of himself." Speaking with Squawk Box's Joe Kernan, he called Roberts a "dummy" for his decision which "makes no sense" but won him over the "Georgetown" crowd.

RELATED: Trump: Chief Justice Roberts Wanted To 'Be Loved By The Washington Establishment'
Kernan posited that he believes a driving force in the matter was the fact that it was an election year, and the Affordable Care Act a key piece of legislation. "I think it's a little bit different than that," Trump responded. "I think that Roberts was reading the Washington Post and New York Times and he said, 'I could come out like a hero if I do what everybody expects me not to do.' I think he should be ashamed of himself."
Trump also praised Justice Anthony Kennedy repeatedly, saying as a nation "we should be very proud" of his "unbelievable opinion." He mentioned him enough times for Kernan to jokingly ask whether the Justice had been frequenting some of Trump's golf courses. It didn't take long for Trump to return to attacking Roberts, though.
"Interestingly, it's reverberating the opposite," Trump said of his opinion, "he looked like a dummy, because frankly his decision does not seem to be written by the supposedly smart man… the decision makes no sense to anybody that reads it."
The segment via CNBC below:

—–
»
Follow Frances Martel on Twitter
Have a tip we should know? [email protected]