Trump Defends Putin's Murder of Journalists: 'Our Country Does Plenty of Killing Also'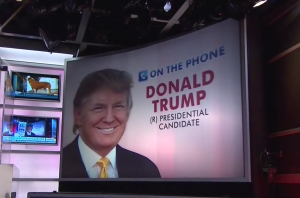 In an interview with MSNBC's Morning Joe, Republican presidential candidate Donald Trump praised Russian autocrat Vladimir Putin, saying he was a leader who had the respect of his countrymen.
Trump said that he was flattered that Putin complimented him Thursday. "When people call you brilliant, it's always good, especially when the person heads up Russia."
"Well, also he's a person that kills journalists and political opponents and invades countries," host Joe Scarborough pointed out. "That would be a concern, would it not?"
Trump didn't think so. "He's return running his country and at least he's a leader, unlike what we have in this country," he responded.
"But again, he kills journalist that don't agree with him," Scarborough insisted.
"Well, I think our country does plenty of killing also, Joe," Trump said. "You know. there's a lot of stuff going on in the world right now, Joe. A lot of killing going on and a lot of stupidity…"
After being pressed by Scarborough a third time, Trump eventually condemned Putin's murder of political opponents and journalists. But, he added, "I've always felt fine about Putin. I think he is a strong leader, he's a powerful leader, he's represented his country the way — the country is being represented."
In true Trump fashion, he concluded by citing Putin's poll numbers. "He's got popularity within his country. They respect him as a leader, certainly the last couple of years they've respected him as the leader. Obama's in the low 30's, upper 40's and he's in the 80's."
Watch above, via MSNBC.
[Image via screengrab]
——
>>Follow Alex Griswold (@HashtagGriswold) on Twitter
Have a tip we should know? tips@mediaite.com