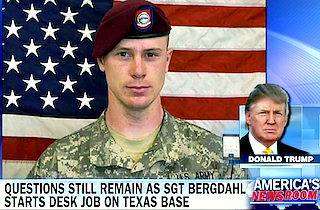 Following an interview with one of Sgt. Bowe Bergdahl's troop-mates criticizing the Army's handling of the Bergdahl investigation, Fox News turned to its newest military analyst: Donald Trump.
Trump argued that the White House would endeavor to avoid an investigation into Bergdahl's disappearance, though the Army indicated yesterday it would now begin to question Bergdahl about the circumstances surrounding his capture. He was also incensed that Bergdahl, whom he labelled a "traitor," would receive back pay.

Trump then criticized the prisoner swap that resulted in Bergdahl being released to U.S. custody in exchange for five Guantanamo Bay prisoners.
"I don't think the White House knew what they were doing when they made the deal," he said. "The first thing I tell people: to make a deal, you have to have your facts. They didn't have the facts." (Speaking of, Trump alleged that the five prisoners had already returned to battle; while U.S. intelligence warns that they would likely "eventually" do so, there's no evidence they have yet.)
RELATED: If Donald Trump Had to 'Bang' Kim Kardashian or Jennifer Lopez, He'd Pick…
Trump also critiqued the appearance of Bob Bergdahl, who was quite prominent in the days following the White House's announcement of Bergdahl's release. Bergdahl has not spoken to his parents since his release.
"The father was a weird dude to start off with, the way he acted, I thought," Trump said. "When I first saw him I said, 'Whoa, whoa that doesn't look like Duck Dynasty.' There's a little bit of difference there. That look is little different than Duck Dynasty. At first I wasn't sure, but then I said, 'Whoa.' And then I watched the father's actions and his statements and words and I thought this is a weird situation going on. Now the guy gets released and he doesn't even want to talk to his parents!"
Watch the clip below, via Fox News:
[Image via screengrab]
——
>> Follow Evan McMurry (@evanmcmurry) on Twitter
Have a tip we should know? tips@mediaite.com